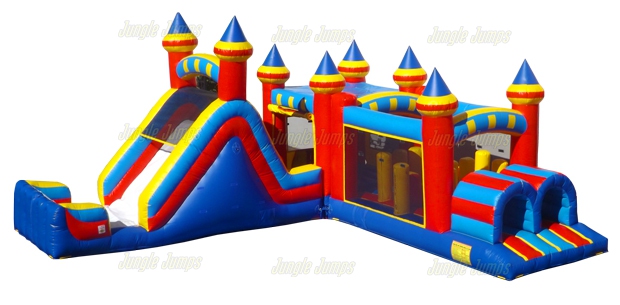 Are you thinking of starting an inflatable rental business? This is an excellent way to have a steady flow of income and have fun at the same time. After all, who doesn't like those inflatables, right? Kids of all ages enjoy playing on bounce houses, inflatable slides, obstacle courses, and a lot more. 
If you want to start an inflatable rental business, you will need to buy some inflatables first. There are a lot to choose from. When you find what you want, it's also essential to know the right ways to move and store them.
How to Move Inflatables Properly
Inflatables come in various sizes. In general, they weigh less than 100 pounds, but some of the larger ones can reach up to several hundred pounds. Moreover, inflatables are heavier when they're wet. That's why moving them is important.
If you're not careful and you don't use the right equipment to move inflatables, then you could get into an accident. The most difficult part about the moving process is getting them inside the truck, unloading them, setting them up, and repacking them in the truck.
Having a dolly or hand truck is helpful to move inflatables around. You may also need the right number of people to move the inflatables, especially when it is to be moved over wet grass.
If you have a pickup truck, here are easy steps to load inflatables:
Determine the order you will drop off the inflatables and load the ones that you will drop off last.
Have the right number of people to assist you based on the number and the type of inflatables you will load into your truck.
Consider using a stool or a milk crate to help you.
If you have a dolly or hand truck, wheel the first inflatables on top of the blowers. Push them up and into the truck bed.
Roll the inflatable to the end, lift, and push it into the corner to have the inflatables in a vertical direction so you can fit more on your truck bed.
Continue doing this for the other inflatables. You could also fit blowers, tables, and other small accessories in between the inflatables.
Fasten all loose objects and accessories to prevent them from falling off while in transit.
How to Store Inflatables Correctly
Another important thing to consider is the storage of your inflatables. You need the right place to store the inflatables when they're not in use. The amount of space you need will depend on the number and size of inflatables that you have. That's why you need to ensure you have a good storage location that is clean and dry. Moreover, it should be safe.
Conclusion
Before you launch an inflatable business, you need to plan everything perfectly to ensure everything will go as smoothly as possible. With that, knowing the right ways to move and store the inflatables are important to keep your products long-lasting and help you get the most ROI. Use these tips when moving and storing your inflatables to keep them safe for a longer period.
If you need inflatables for sale, order from Jungle Jumps! We are one of the biggest manufacturers of commercial-grade inflatables in the US. Get a quote today!