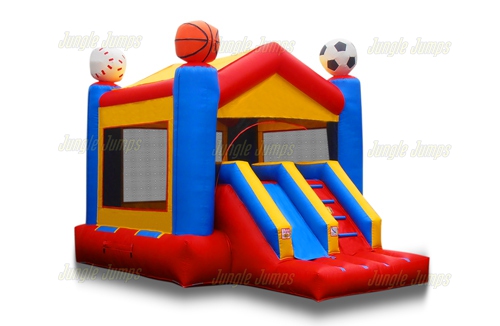 Bounce houses come in many shapes and sizes and can be used for various occasions. Recent trends have shown these inflatable jumpers being used everywhere, from kid's birthday parties, music festivals, outings, and even corporate events.
These rental items have become somewhat essential for a successful event. They are a crowd-pleaser. Kids love to bounce and play, and the same goes for adults. But before you go and buy or rent one, be sure to know the basics about bounce houses. One of the essential things to familiarize yourself with is the weight limits.
This article will explore what you need to know about bounce house weight limits and more.
Here's what you need to know:
Is There a Weight Limit for Bounce Houses?
The short answer is yes, and it depends on the type of inflatable you're planning to rent or buy. First, some inflatable bouncers are only intended for children. These can hold up to 200 pounds, which is a weight limit for pretty much any child.
The weight limit for larger bounce houses is a bit more complicated. You have to make sure that you have enough space for the inflatable to set up. The main factor that influences the weight limit is the floor surface.
One common mistake people make is that they don't consider the surface, and they end up picking a bounce house that won't fit, resulting in a sub-par experience. Depending on the surface and the inflatable model, the maximum weight capacity can vary from 400 to 800 pounds. Some can hold up to 500 people.
Nearly every inflatable has a maximum capacity recommendation for it on the box. You can also find this information on the package. If you're not sure what to look for, you can always contact the manufacturer.
What Happens if the Limit is Exceeded?
If you choose an inflatable that has a higher weight limit than you require, then you don't have to worry. However, if the weight limit is exceeded, you risk damaging the bounce house. To be safe, make sure that you follow the manufacturer's recommendations.
Another thing that happens when the weight limit is exceeded is that people will have trouble getting onto the inflatable. This can be inconvenient, especially if you have kids that have to get in and out of the bounce house.
Inflatable bounce houses are very sturdy and can withstand the weight of humans. However, when the weight limit is exceeded, the bounce house will start to sag, and it won't sustain the weight of the people inside properly. This is why it's essential to follow the recommendations.
How to Effectively Enforce the Weight Limit?
The main problem with overweight users is that they don't realize how big they are. For this reason, if the weight limits are exceeded, then the people inside won't know if they are exceeding the limit.
If you're hosting an event, you can issue a waiver, asking for the weight and height of the people getting on the inflatable. This can help you to keep the weight limit enforced. Another thing you can do is ask to see the properly sized shoes.
Some inflatables are heavy, and they can cause an injury if they slip off the feet. It's essential to make sure that the people using the inflatable wear proper shoes, as they can slip off if they're not tight.
The Bottom Line
Inflatable bounce houses are great tools for lots of occasions. You can use them for a birthday party, a school event, a festival, or even a work function.
Regardless of the purpose, don't forget to conform to the weight restrictions of the inflatable you are renting or buying. You can use this article as a guide.
If you are looking for a commercial bounce house for your next event, we can help you. Jungle Jumps is a worldwide supplier of commercial-grade inflatables. We have all sorts of inflatables that come in various shapes and sizes. Browse through our offerings now and find what you're looking for. For any more questions, feel free to contact us today!