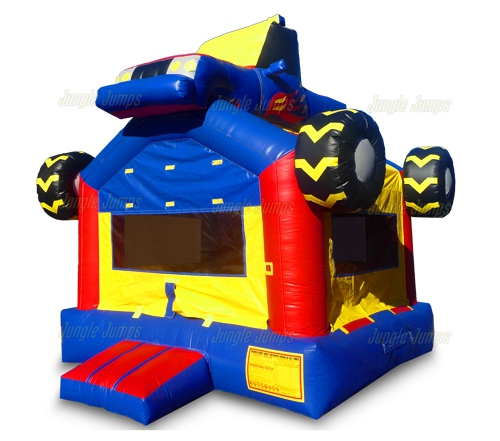 Whether it's for house parties or large school events, an inflatable bounce house is one of the most exciting additions to any occasion. Their popularity practically makes them a must-have for any party equipment rental business. Inflatable bounce houses are especially popular in the spring and summer when kids can freely enjoy playing outdoors.
If your rental business doesn't have a bounce house, you might be missing out on a lot of big business opportunities. Bounce houses are the perfect way to make any event special, and your customers know it. If you need more reasons why your rental business could use an inflatable bounce house, here are some of its most significant benefits:
Benefit #1: Bounce Houses are Fun and Safe for Kids
It's no secret that bounce houses are the life of the party. Kids everywhere enjoy jumping around in them, making them such an in-demand rental piece. Aside from the undeniable enjoyment that comes with bounce houses, kids also get to spend time socializing with their friends and getting physical exercise. It instantly draws their attention away from their computers and smartphones, which is a delight for many parents.
Bounce houses are also a safe place for children to play in, especially because there are no sharp or hard surfaces to hurt them. Moreover, all sides of the bounce houses are lined with soft but durable mesh sheets. These sheets prevent children from falling out of the bounce house, adding an extra layer of safety within the installation.
The materials used for bounce houses are also tested safe, so even young children who love putting things in their mouths can also enjoy playing inside. To ensure that kids don't accidentally bump into each other while jumping inside the bounce house, adult supervision is highly encouraged.
Benefit #2: Bounce Houses are Highly Durable
Commercial bounce houses are made of thick and highly durable materials that can withstand large amounts of weight. They're typically made of industrial-grade vinyl or nylon materials that can certainly take a beating.
Bounce houses are equipped to handle multiple kids jumping around inside, with some even being able to handle the weight of adults. They're also built to last for years, making them a solid investment for any rental business.
Benefit #3: Bounce Houses are Fairly Simple to Set Up
When you rent out a bounce house, you can install it with relative ease. You don't need a whole lot of equipment to set it up, and you can inflate it with a simple electric blower. You can also inflate smaller units manually, although this takes a lot of elbow grease because of the thick materials.
It's best to set up an air compressor to provide the bounce house with safe and reliable inflation. Most bounce houses have gauges that adjust the hose of the air compressor, so most providers tend to keep the compressor on throughout the event to keep it inflated.
Benefit #4: Bounce Houses are Easy to Sanitize
Sanitation is a highly important concern nowadays, but the good news is that bounce houses are easy to sanitize. It's recommended for commercial bounce houses to be cleaned thoroughly after every event, but it isn't hard to do so.
You can use a hose to remove any contaminants. After which, you can use a mild detergent and a non-alcoholic disinfectant to sanitize the bounce house. Bleach-free wipes also help disinfect the surfaces.
Buying a Bounce House for Your Party Equipment Rental Business
Bounce houses are great fun for everyone, and they instantly make any event special. They're safe, built to last, simple to set up, and easy to sanitize. Commercial bounce houses are a must-have installation for any rental business, and there are plenty of types to choose from. Complete your rental business by investing in a bounce house!
If you're looking for a bounce house manufacturer in the US, get in touch with Jungle Jumps. Manufacturing bounce houses, inflatable slides, and other inflatable party installations are our specialty. We offer durable inflatables with a wide range of styles, complete with seasonal free shipping offers. Browse our site and get a commercial bounce house for your business today!