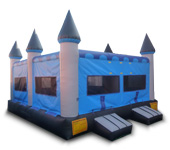 Hiring commercial inflatables for your little one's party can be exciting. Bounce houses are so much fun that you don't even have to think of other ways to entertain children because they'll all be waiting for their turns at the inflatable anyway. But because you are the host and your guests are primarily kids, you want to make sure that everybody uses the bounce house you are renting safely. 
In this post, Jungle Jumps shares the basics that you need to know to ensure everyone's safety when you rent a bounce house for your kids' party:
Make Sure You Know About the Public Liability Insurance
If you have a feeling that the party could be a little too rough and you're pretty nervous about renting, ask the bounce house rental company for public liability insurance. This should help cover any accidents that could occur or any damages to your property caused by the rental.
If you are in the United States, the issuance of insurance could vary depending on what state you are from and the rental service itself. Make sure you think things thoroughly because you don't want to pay extra if the insurance is not worth it anyway.
Follow All the User Restrictions
Apart from public liability insurance, the contract will include user restrictions. This should be stated clearly in the terms and conditions mainly because it will ensure safety and even help prevent damage to the inflatable and your property.
For example, you may be strongly advised to ensure kids do not wear shoes when they bounce or be mindful of the total weight capacity for the bounce house. While some restrictions may come across as a buzzkill, know that they are given for the safety of you and your guests.
Be Prepared for All Kinds of Weather
There may also be policies in the contract about the weather. Note that not all inflatables can handle harsh weather conditions. For example, there may be bounce house castles that might quickly deflate when left under the sun's intense heat. It's advisable to install a temporary protective roof over such inflatables. You may also be asked to agree not to use the bounce house if it rains because of the risk of kids slipping, tripping, and getting hurt when the bounce house is wet because of the rain. Make sure that you thoroughly read the contract, so you understand the clauses that cover this.
Ensure Strict Supervision At All Times
Last but certainly not least, you have to make sure that a responsible adult is watching the kids at all times. While it may not be possible for you as the host to be the one personally watching the children, you should ensure that you plan this with other parents or perhaps your friends or siblings before the party. You can take turns in supervising the little guests to make sure that there's always someone to remind them to bounce carefully and to avoid rough play.
Conclusion
No one can deny the fun that commercial inflatables can bring to any party, especially for kids. That said, remember that it can only be fun when you prioritize the safety of the guests who will use them. As the host, it's your responsibility to plan ahead and ensure the safety not only of everyone who will use the bounce house but that of your property and the bounce house itself as well.
Jungle Jumps is the trusted supplier of commercial-grade bounce houses worldwide. If you find that bounce houses are so much fun that you're considering investing in them and renting them out as a business, you should check out the great options we have for you!