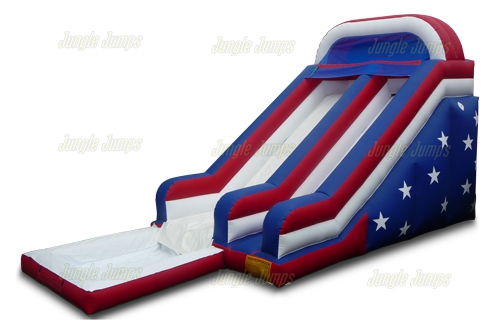 It is one thing to play on an inflatable water slide, and it is another to host it and maintain it. Inflatable water slides need to be cleaned once in a while. Failure to clean the slide can lead to issues like growing molds and bacteria, not to mention an increased risk of damaging the slides to the point that a repair may no longer be possible.
That being said, if you are unsure as to how you can clean your inflatable water slide, here's a quick step-by-step guide on what to do:
1. Inspect the Inflatable Slide
After the inflatable slide has been used, the first thing to do is to give it a thorough visual inspection. This means inspecting the slide from top to bottom. Note that you can do this either with the inflatable inflated or deflated, depending on how much time you have.
In the inspection, look for things like sticks, leaves, toys, food, or any other objects, remove them. If they are properties of other people, then return them if possible. Also, look for dirt, grime, mold, or any other kind of filth. Keep an eye out as well for physical damages, as these will need to be repaired later.
2. Rinse the Inflatable Slide
Once the inflatable slide has been thoroughly inspected, it is time to get to rinsing. If the slide was set up in someone's home, ask the owner if you can use their gardening hose to give the slide a full rinse. Doing so will allow you to get rid of as much dirt and grime as possible before you pack it up and bring it home for a more thorough rinse.
If you can do it at home, then go ahead with the rinse. Don't forget to rinse the underside as well to get rid of any dirt and mud.
3. Deep Clean the Inflatable Side
With the rinsing done, it is time to get to deep cleaning.
To deep clean the inflatable slide, you will need to get a cleaning solution. Either buy a vinyl cleaner or make some using one part vinegar, three parts water, and some dish soap. Apply this mixture to the slide thoroughly, scrubbing away with a sponge or a soft bristle brush. Once that's done, rinse it thoroughly until there is no residue.
4. Disinfect and Dry the Inflatable Slide
Deep cleaning the slide isn't enough by itself. Once that's done, you need to disinfect the slide. This helps to remove bacteria and even viruses and can easily be done by purchasing some disinfectants and spraying them over the surface. Make sure to use bleach-free disinfectants and leave the solution there unless told to rinse away by the manufacturer.
After disinfecting the slide, shake excess water away and pat the slide down dry with towels before you wrap it up. If you can, leave the slide exposed to the sun to dry better. The UV rays also help to eliminate bacteria. You can also grab a leaf blower to dry the slide if you cannot leave the slide on the sun or want to dry it quicker.
Conclusion
By following the above steps carefully, you'll be able to keep your inflatable slides as clean as possible to ensure it lasts for as long as possible. That said, always remember that patience and care are what you need to exercise when cleaning the slide. Missing any spots can lead to the deterioration of your water slide, not only hurting its utility but even its aesthetics. Problems like mold can easily eat through the vinyl, and bacteria can cause users to get sick. As such, pay attention and take your time to clean your inflatable water slides thoroughly!
Jungle Jumps is a worldwide supplier of commercial-grade inflatables, offering products including a bounce house, jumpers, and other types of inflatables. If you are looking for water slides for sale online from the US, check out what we have to offer!