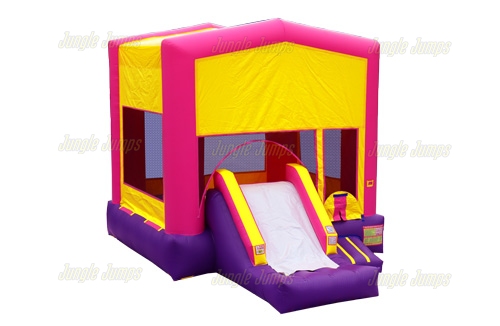 Word of mouth is a tremendous marketing tool in the party event and rental industry. Happy customers are one of the best resources for increasing your business. While some folks will be so pleased with your services that they will tell everyone about you, others may need that extra nudge. Offering a referral bonus will help to motivate your happy customers to spread the word. It will also make them more likely to keep their eyes and ears open for anyone interested in inflatable services. Offering customers a referral bonus is a cost effective way to get new, qualified prospects and to ultimately generate new business.
You have a couple of options in the type of referrals bonus you choose to offer your customers. You can offer them a cash bonus, which will be the most motivating incentive, or you can offer them a discount on future services. The latter, while incentivizing, will only appeal to those customers that foresee an event where they will use your services in the near future.
The next question becomes how much to offer. To determine this try to identify the cost of your business to acquire a new customer. Include all acquisition costs from advertising and marketing to websites and printing. The referral bonus that you extend to your customers should reflect a portion of this amount. Make sure the amount is high enough to be motivating, but still within your means and at or below the cost to acquire a customer. Also, keep the amount consistent from customer to customer. The last thing you want to do is to alienate some of your best customers by offering them a lower incentive than others. Don't risk the word getting out.
In order for your referral program to be effective you need to make the program easy to understand. Clearly state the dollar amount the referrer can expect and under what conditions the bonus will be paid. Don't get too complicated in the program and avoid multi-level programs that will only confuse your customers and raise skepticism about the program.
Once you have established the program and the criteria to be used you need to tell your customers about it. This can be done through word-of-mouth, an email blast, or a direct mail piece. To have your referral program have the highest chance of success consider compiling a list of your best (happiest and repeat) customers. As long as you have the staff and time available to do it a quick phone call or personalized email to the customer will make sure that they are aware of the program. This will also show them that you care enough to give them personalized attention, which is always a plus with your customers.
This obviously isn't the best strategy to gain new customers unless you have a happy and satisfied base of past clientele. Any referrals program should be considered an add-on to your existing marketing strategy.
Good luck incentivizing your customers to work with you!
Summary
Article Name
Description
Any referrals program should be considered an add-on to your existing marketing strategy.
Author