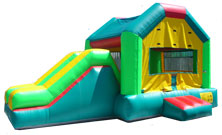 Indoor inflatable play centers are an exciting new twist on the traditional family entertainment center or arcades. They offer various inflatable games for kids, ranging from bounce houses to obstacle courses, inflatable slides, and more. Some also provide sections for video games, prize redemption arcades, food, and other traditional family entertainment center attractions.
Done right, these play centers can be a fun and lucrative business venture. However, before you start inflating your dreams, there are a few things you should consider.
1. Location
The location of your indoor inflatable play center can make or break the success of your business. Upon opening your play center, it is essential that your location is visited by plenty of families with young children. If your location has a high turnover of traffic and is close to other family-friendly attractions, like malls, water parks, and playgrounds, your business is more likely to succeed.
2. Think About the Kids
For the most part, families go to these businesses because they have small children. Because of this, it is crucial to create an environment that allows the children to have fun and enjoy their time at the indoor inflatable play center. You need to balance the right environment of fun for kids without being too overwhelming or distracting to the parents. Children's sections that feature larger inflatable slides, bounce houses, and obstacle courses will likely be a hit with kids.
3. Don't Forget the Parents
While you want to create an environment that is enjoyable for children, the parents must also be able to have fun and enjoy the time they spend at the indoor inflatable play center. This can be accomplished by offering plenty of seating throughout the indoor inflatable play center that is close to food and drink options. You could also offer video games, prize redemption arcades, and a number of other things that will appeal to an older crowd.
4. Avoid Serving Heavy Meals
If you are planning to serve meals in your indoor inflatable play center, then it is important that you avoid serving heavy meals. You want to keep kids energized while they play, but not with full stomachs. This will help manage any "accidents" that might occur in high-traffic, hyperactive environments.
5. Maintenance
Inflatable play centers will require regular maintenance to ensure that they are running in top condition at all times. This includes a deep cleaning at the end of each day, taking regular measurements to ensure that the inflatables are in the right condition, and fixing any problems that arise. This can be a time-consuming task but is a small price to pay for the safety of your customers.
Conclusion
While indoor inflatable play centers can be the next big business venture, they can also be a lot of work. Before you set out to run your own inflatable play center, make sure that you have the right location, amount of seating, variety of entertainment, and reliable staff that can keep everything in safe working condition.
Inflatable play centers are still one of the newest forms of entertainment and businesses, so it may take some time to find just the right formula that will result in success. However, sticking to it for the right reasons will bring you and your community immeasurable joy.
Mix and match all kinds of inflatables to create an unforgettable experience for kids of all ages. Let Jungle Jumps' inflatables help you make your inflatable play center a reality! Find the commercial bounce houses you need over at our product catalog!