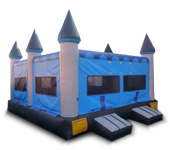 If you're planning to incorporate bounce houses or any other inflatables in your business, this article will be perfect for you. You must know that buying a commercial inflatable is not going to be easy. Since many people will use it, you need to make sure that it is safe and has the best quality. 
Before you make a purchase, we will discuss a few essential details about commercial inflatables to know why it is better for your business. Remember, your business is on the line, so you need to buy the right quality product.
Let's get to it!
Where Are Commercial Inflatables Being Used?
Generally, commercial inflatables are suitable for business use. They are used on a large scale compared to residential ones. Let's say you own a resort business; you need commercial inflatables, like commercial water slides, obstacle courses, and a bounce house, instead of a bouncy house because that is only for residential use.
Essentially, you cannot use residential-grade inflatables for your business, but you can use commercial-grade inflatables in your backyard.
How Are Commercial Inflatables Different From Residential Ones?
You might confuse commercial inflatables with residential inflatables. However, you must know that they are not the same. There's a big difference between the two, so you should know about them before you make a purchase for your business. Let's take a look at how they are different when it comes to:
1. The Material They Are Made Of
Commercial inflatables have relatively better materials. They are made of better quality using PVC vinyl. On the other hand, residential inflatables are made up of polyester oxford or heavy-duty nylon.
The good thing about PVC vinyl is that it is moisture-resistant and it facilitates easy cleaning. It is also durable and less likely to corrode. That's why commercial inflatables are more suitable for business use. You can have easy maintenance, and you can enjoy your investment for a much longer period.
2. The Features They Have
Another big difference they have are their features. Residential inflatables have fewer features compared to commercial inflatables. When we say features, residential inflatables don't have a removable top cover, slide stoppers, removable climber linings, and the like, unlike commercial inflatables. It's essential to have a removable top cover, especially when you use it for your business, because having a shade is more desirable for your customers. On the other hand, slide stoppers are also important since they serve as a precautionary safety measure that can prevent users from falling out directly on the ground, preventing injuries.
Also, commercial inflatables have walls that are tough and firm, unlike residential inflatables. However, that doesn't mean that residential inflatables are bad products; they are not just suitable for business use.
3. Their Longevity
Since commercial inflatables are more durable, tough, and firm and are made up of better materials, it is evident that they can last longer compared to residential inflatables.
Conclusion
After knowing these essential details, you can now choose the right grade of inflatables for your business. Remember, a commercial inflatable is more suitable for business use, so you should only purchase that kind. Your inflatables will not last long if you choose the residential grade inflatables. It will also be less safe, risking your business reputation and sales.
If you are looking for the best commercial inflatables for your business, get them at Jungle Jumps! We are one of the largest manufacturers of commercial-grade inflatables in the United States. We take pride in our quality, using only the best materials and construction practices to deliver the very best water slide, bounce houses, and commercial inflatables for sale. Shop for your commercial inflatables from us today!