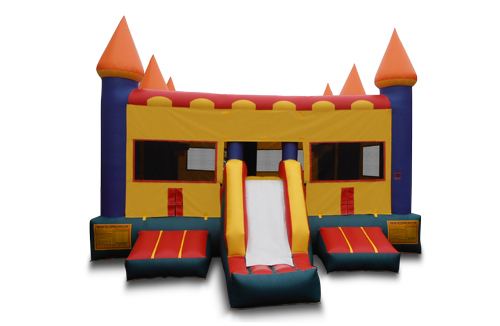 When you think of businesses to launch, going into one that involves inflatable bounce houses may not come to mind. Of course, since it's somewhat unconventional, there may be some uncertainty as to whether or not it's lucrative. Before you start to purchase a bounce house or two, you'll want to be sure your money is going into something worthwhile.

Can you actually make a profit from a bounce house business?
In truth, whether you're looking to do a full-time operation or a business you can do from home, inflatable bounce houses can be quite lucrative. The growth of the inflatable party rental business has been expansive and is worth billions per year.

What does it take to open a bounce house business?
Cost-wise, not much overhead is required when it comes to a bounce house business. The average cost of an inflatable bounce house for sale is roughly $1700, including shipping. A combination unit costs a bit more—almost $3000—but that's an investment that will be well worth it as well.

There's also the matter of insurance, which actually makes up a significant proportion of the expenses you'll cover. Start up costs can be pretty difficult, even as the price lowers with the addition of units. If you're able to establish a name, however, your business can grow very quickly!

How much profit can be made from bounce houses being rented out?
Research into the bounce house industry has found that rentals of an inflatable average at around 1.5 every week. If you charge $150 for every time a bounce house is rented, when that's multiplied by 1.5 bookings in a week, that comes to $225. Using that equation, when you invest in 5 bounce houses, that gets you roughly $1125 every week.

What are the steps to take when starting a bounce house rental?
Buy an inflatable bounce house.
This may seem self-explanatory, but it's worth mentioning. The first step is to actually buy an inflatable bounce house. Take your time and look into suppliers or manufacturers so you can get the best value for your money. Scour the internet and list promising leads. A number of companies in the field are actually willing to guide entrepreneurs that are starting out. Moreover, they are willing to point people to possible sources of financing. Needless to say, when the business starts to grow, you should buy more bounce house models for variety. It will also let you cater to more than one customer at a time.

Secure transportation and storage.
The standard weight of a bouncy house is a little over 100lbs. Get yourself a trailer or truck so you can transport your bouncy houses. Upon arrival at the venue, a dolly will be of great assistance. It's important also to have a proper storage facility where your bounce houses can be kept safely.

Conclusion
When looking to start a business, an inflatable bouncy house rental may not be the first thing that comes to mind. It's actually a rather lucrative business that costs barely any overhead. You can turn a profit almost immediately after you start.

Are you looking for wholesale commercial inflatables for sale? Check out Jungle Jumps today! We are a worldwide supplier of commercial grade inflatables.