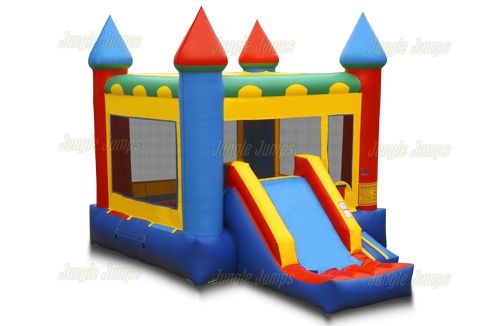 If you're planning to start a bounce house rental or selling business, you need to look for the right wholesale supplier and manufacturer. Quality is important when it comes to inflatables because of the safety risks involved in using a subpar product. That's why it's important to look for a bounce house manufacturer offering inflatables made from commercial-grade materials that can withstand multiple uses. To help you in your search, here are some things you need to consider when looking for inflatables.
Product Weight
Inflatables may look soft and light at first glance, but they're actually quite heavy and difficult to transport when deflated. When looking for bounce houses, it's important to gauge the product's weight and see if the listed weight is accurate and true. Some companies may claim that their bounce houses are lightweight. While that may or may not be true, there are times that lighter bounce houses mean they're made from lighter, easy-to-break materials. Make sure you choose a manufacturer that offers lightweight products without compromising the quality and thickness of the inflatable.
Product Height
The height of inflatables varies depending on the design and type of the inflatable. Slide platforms are usually taller than a moonwalk, depending on the design. Make sure to inquire about the actual height of the inflatable minus any design attachments that will make it look taller. Some manufacturers like to put tall palm trees or conical roofs on bounce houses that give you the impression that the inflatable is quite big. However, when you see it in person, it's no taller than a 9-year-old kid. Don't be fooled by this and ask the manufacturer if you can see a fully deployed version of the inflatable.
Warranty
Warranties are a crucial part of purchasing an inflatable. As you may know, inflatables can get damaged through extensive use. Make sure you look for a company that offers a good warranty and that the company itself can back it up. What good is a warranty if the manufacturer is no longer in business? As much as possible, buy commercial-grade bounce houses that come with a three-year warranty, which is just about right for a bounce house.
Slide Landing Area
Inflatable slides can be quite fun, especially for children who aren't afraid of heights and going fast. A well-designed slide platform should have an adequate landing area to let riders have enough stoppage to slide smoothly and come to a stop. The problem is, some manufacturers build inflatables with a short stoppage area to reduce material costs, allowing them to make shorter slides. However, this can be dangerous to riders and the people using them as an abrupt stop could cause some injuries. Imagine sliding at full speed and having to stop immediately when you reach the bottom. When looking for inflatable slides for sale, make sure you buy those with enough stoppage area by testing them out first.
Conclusion
Commercial-grade bounce houses can provide hours of fun and adventure and will make a great rental option for your business. Make sure you consider these tips before buying so you won't have any problems renting them out at events and parties.
Jungle Jumps is your ultimate source for inflatables, bounce houses, moonwalks, and jumpers. We are one of the largest manufacturers of commercial-grade bounce houses in the country, with over a hundred different styles of inflatables available. If you're looking for a commercial bounce house wholesale provider, we are the ones to call. Contact us today to order our inflatables!