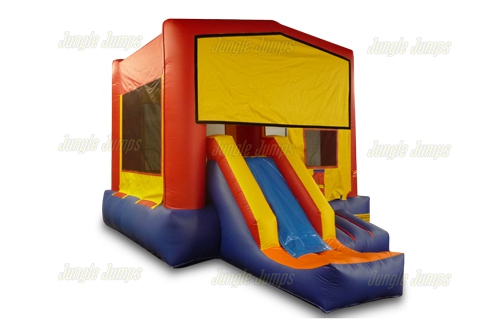 So you want to buy a bounce house for your family? Now, we know that you want to get the best bouncy house for your family, this is why we thought it would be useful to put together a brief article on everything you need to know. While you may think that this is simple, there is a slew of different things that you'll have to consider when buying a bouncy house.
If this is something that you're interested in, read on for a beginner's guide to buying a bouncy house for your family!
Things to Consider When Buying a Bouncy House
Choosing the right bouncy house can be rather tricky as there are many things that you have to consider. To buy the perfect bouncy house, it's important that you keep these four factors in mind:
Your Kid's Age: The older your child is, the larger your bouncy house should be. Having a bouncy house that's too small for your child will lead to the inflatable breaking down much faster than it usually would. Bouncy houses that are too small also pose an injury risk for your child.

Size of Your Backyard: You'll also want to make sure that you have space in your backyard for your chosen bouncy house. This is rather simple as all you really need to do is measure your backyard and choose an inflatable that best suits your space.

Your Budget: Budget is something you always have to keep in mind. Now, there's no "wrong" budget but just keep in mind that you usually get what you pay for when it comes to bouncy houses.
Tiers of Bouncy Houses
Given that you already have an understanding of the different factors to consider when buying a bouncy house, it's time to pick one out. To help simplify things, we've divided the bouncy houses into tiers. There are different tiers of bounce houses. Each tier differs in price point and quality, which is why you'll want to really consider what tier you want to get for your family.
The first and lowest tier of bouncy houses is the retail bouncers. You can usually get these in box stores and websites. They're generally the most inexpensive of bouncy houses. These are perfect for kids that are six years old and under. These tend to fit in the average backyard, which makes them a good fit for your home. With that being said, you're also not getting top-tier quality if you opt to go with these bouncy houses. Since they're made of affordable material they usually don't last as long as higher-tiered inflatables.
Vinyl crossover inflatables are the second tier of bouncy houses. The thing about vinyl crossover inflatables is that they really aren't that different from the retail bouncers. However, one thing that does set them apart is their durability. These inflatables are made with more durable material, which means they'll last much longer than retail bouncers. To add to this, most vinyl crossover inflatables can also be repaired if ever they go through any minor damage.
Lastly, commercial bounce houses are considered to be the highest tier of bouncy houses. As the name suggests, these inflatables were made for commercial use. This makes them extremely durable and significantly larger than the previous tiers of inflatables. And while this may sound great, not everyone will have space for it. However, if you do have space, a commercial bounce house is a great investment if you really want to get a bouncy house that will last you a lifetime.
Conclusion
We hope this article proves to be useful when it comes to helping you pick the best bouncy house for your home. Be sure to be thorough when selecting a bouncy house, as not all inflatables are suitable for all homes. Feel free to look back on this article if you ever think you need a little more help with deciding.
If you're looking to buy a bounce house, Jungle Jumps has got you covered. We are a worldwide supplier of commercial-grade inflatables that specializes in manufacturing bounce houses. Visit our website to know more about our products!