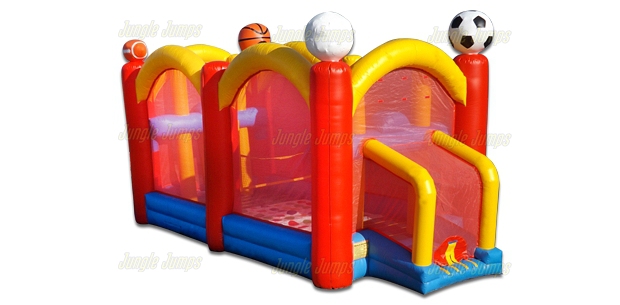 Everyone in the inflatable rental business knows that you need to restock your inventory regularly to make it big. Adding new stuff to rent keeps things exciting and gives customers new options for them to rent out. It's also essential to throw out worn-out and unusable models and replace them with more recent versions. Here is a comprehensive list of what you should be looking for when buying new models.
Buying Guide: What to Look for When Buying Commercial Inflatables
Made by Trusted Manufacturer
Inflatables are something that people jump, hop, skip, and run in for fun. But they can be dangerous if they suddenly burst and deflate or are made of materials that are too hard to land on. Quality checks are vital in this niche industry, especially since the primary audience is children.
Instead of saving a few bucks on knock-offs from a company that makes them cheap at disappointing sizes, invest in those made by trusted brands. Reputable inflatable manufacturers use good materials that don't reek of toxic plastic when taken out of the package or left out in the sun. Safety is also a concern for these manufacturers, so rarely would they sell something with defects.
Available Warranties
Even if you're ordering from reputable suppliers, there is still a possibility that your inflatables may cave in due to factory defects. That is why it is always important to ask for a warranty. Make sure to get every bit of information, such as how long it will last, what the grounds are to make a return, how soon you can get a replacement, and whether or not you can be entitled to a full refund.
Excellent Customer Service
Customer service can often make or break a purchase, especially if there are things you want to inquire about or some returns you have to make. Find a wholesaler with whom you can work build a relationship. In this business, it's good to have close connections for anything concerning your purchases.
Bankable Designs for your Business
The general rule of thumb is to get designs that do not specifically cater to one gender. If you want to have a wide demographic of customers coming in, some of the more conservative folks won't be open to renting a princess bounce house for their son's birthday party.
Models with colors and designs that are gender neutral will appeal to a wider crowd. But if it's your thing, for example, to provide specific designs for a particular niche, do so by all means.
Conclusion
The inflatable rental business is not without its challenges, especially since it's a niche market with a very specific demographic. The best way to stay afloat and rise to the top is to be the best and most reliable service provider and buy the best inflatables that both parents and kids alike would love.
To buy the best wholesale commercial inflatables for sale, hop on the deals of Jungle Jumps. We are the top leading supplier of commercial-grade inflatables worldwide. Our products are the best jumpers, bounce houses, moonwalks, and other inflatables on the market. Contact us today!