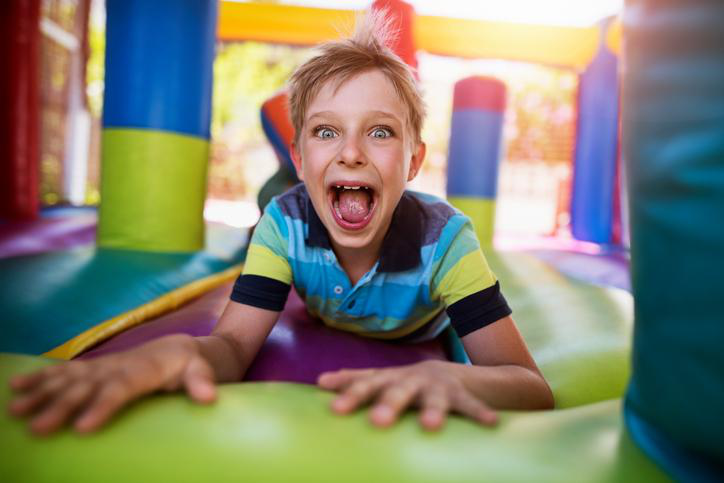 Bounce Houses: regardless of how old you may be or how big your family is, there's no doubt that these inflatable structures of fun are always a great idea for celebrating a special occasion.
Growing up, many of us were exposed to the wondrous nature of jumping around in an inflatable jumper house after attending the parties of our childhood friends. After all these years, the allure of jumping around in an inflatable house may remain even stronger than ever to the point where you may not even mind the idea of jumping into one with kids younger than you are! 
After you've settled down and started a family of your own, you're bound to find yourself on the opposite side of the jumper house because your kids will want to experience the funfair themselves. Whether you're at a party, carnival, or setting up your own child's celebration, you'll find yourself on the verge of introducing your kid to the wonderful world of jumper houses sooner or later.
This brings us to one specific question you may have in mind: "What's the safest way for my child to play in a bounce house?"
A guide to all the safety tips you need to know about
Although it's no secret that bounce houses are absolutely safe and enjoyable for both children's parties and carnivals, it's worth noting that injuries and problems can occur if you don't prepare for it. Thankfully, keeping everything safe and enjoyable so that your little one comes out with a big grin can be easily done by taking these different tips and tricks into consideration: 
Tip #1: Keep everything age-restricted
While it may seem a bit drastic at first, taking the time to age-restrict the jumper house activities for your children until they turn six years old is a guaranteed way to ensure that unfortunate outcomes don't take place.
Often, "six" is seen as the magic number because it's when children learn how to be safer and protect themselves well enough to avoid any problems or accidents since they know what it feels like to get hurt. Once your kid gets to such an age, they'll have the necessary balance, coordination, and strength to protect themselves (and those around them) by safely and responsibly having fun in the jumper house!
Tip #2: Stick around 
Generally, jumper house accidents take place because children go wild and aren't controlled since their parents aren't watching. In fact, this is the primary reason we urge parents to stick around at parties. 
You see, sticking around is a minor yet effective way to help ensure that your kids stay as safe as possible during such a fun experience since you'll be able to tell specifically what your kid should avoid. On top of preventing disasters from happening, you'll also need to consider the fact that watching over your kid will help you teach them to be more responsible and mindful as they jump around so that they stay as safe as possible!
Conclusion
As fun as they may be, bounce houses can be potentially dangerous if you don't approach them with the same amount of care and consideration that comes with caring for your children and ensuring they have good experiences. Thankfully, following the two tips mentioned above will prevent you from experiencing any issues that your kid may have with their safety as they have the time of their lives! 
If you're looking for the best inflatable play structures from a company that has an A-rating from the Better Business Bureau, look no further because Jungle Jumps is here to help. Get in touch with us today to learn more about our products and services!