Do you want to buy an inflatable house in Montana?
Read our new article about the best commercial bounce house in Montana by Jungle Jumps the number 1 bounce house supplier in Montana!
Jungle Jumps is the best commercial bounce house in Montana available on:
-Billings
-Missoula
-Great Falls
-Bozeman
-Butte
-Helena
-Kalispell
-Belgrade
-Whitefish
-Anaconda
-And more
Top 5 best inflate bounce houses for sale in North Dakota
1) Colorful Moonwalk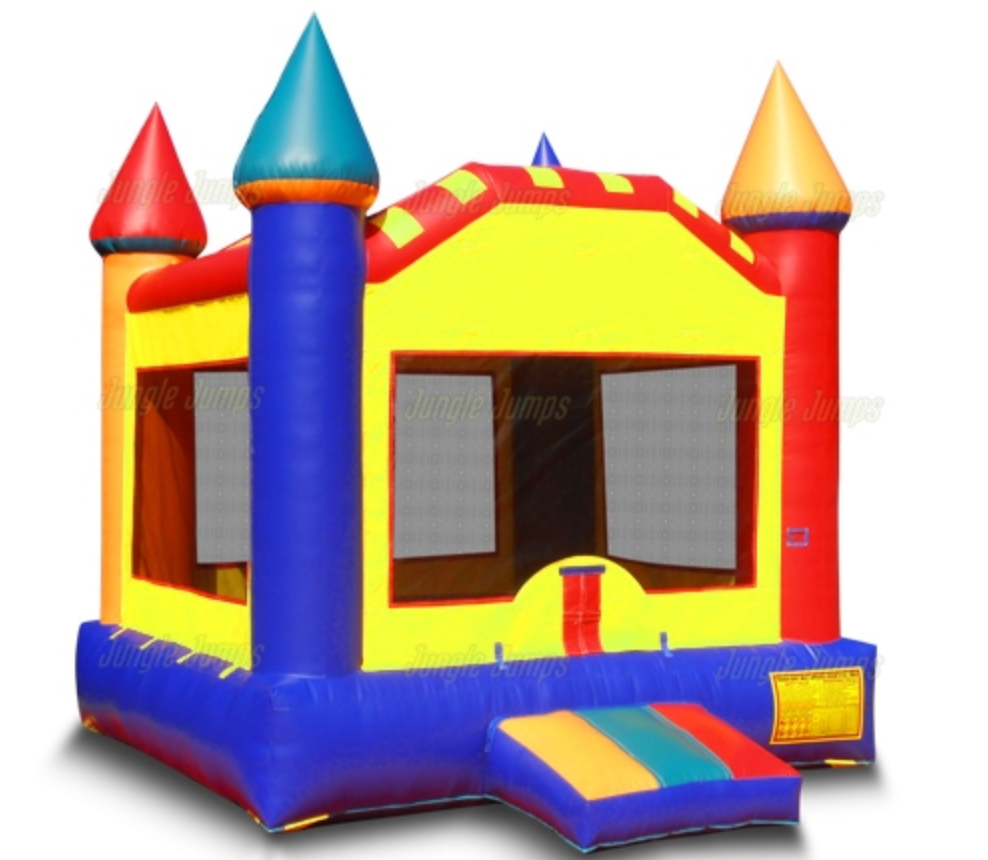 Model: 
BH-1181-B
W X L X H:
13 x 13 x 15
UNIT LB:
175
Description (Colorful Moonwalk):
This for-sale bouncy castle boasts a castle-inspired design, featuring inflatable turrets at each corner and striking, vivid colors. Made from durable, tear-resistant vinyl, it promises years of consistent enjoyment in the bouncer play area. Measuring 13'x13′, the bouncer provides ample space for jumpers to bounce around, while an optional basketball hoop adds an element of exciting gameplay. Your purchase includes comprehensive instructions and a patch kit to ensure the longevity of your new inflatable.
2) Pink & White Castle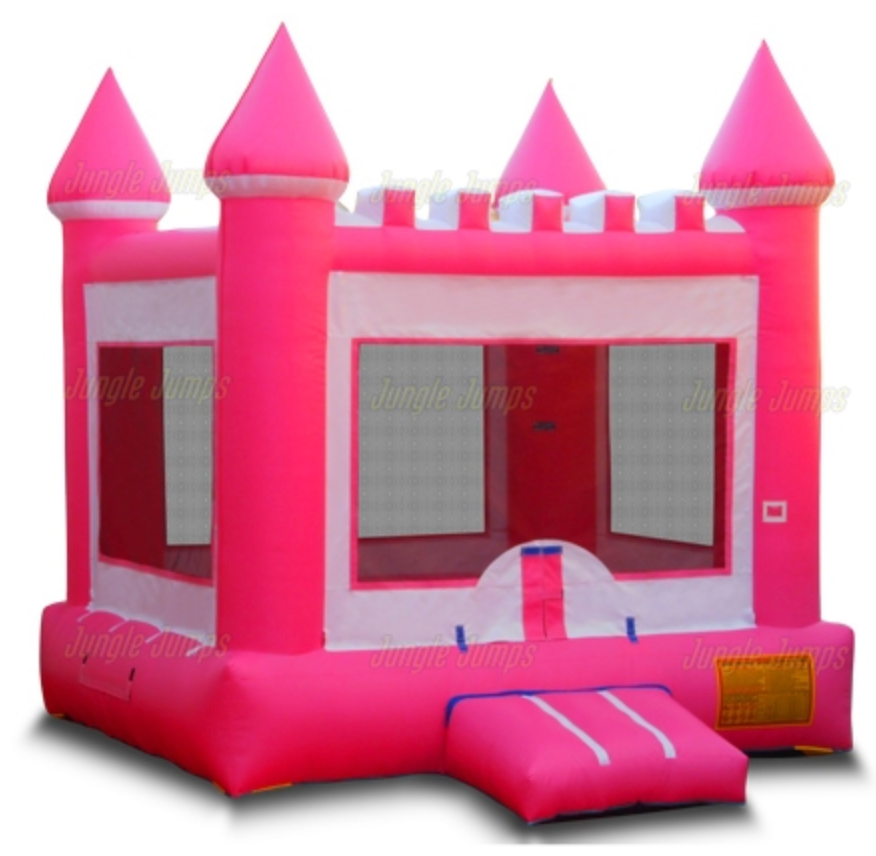 Model: 
BH-2027-B
W X L X H:
13 x 13 x 15
UNIT LB:
175
Description (Pink & White Castle):
The Pink & White Castle Bounce House offers an enchanting space for young princesses to enjoy themselves. With a 13'x13′ exterior, there is ample room for bouncing and sliding, while the inflatable ramp ensures easy access. Constructed from sturdy vinyl and adorned with vibrant white trim, this castle is a delightful addition to any setting. The presence of four turrets at each corner enhances its castle-like appearance. Mesh windows on all four sides allow fresh air to circulate and offer a fantastic view of the excitement within.
3) Module Jumper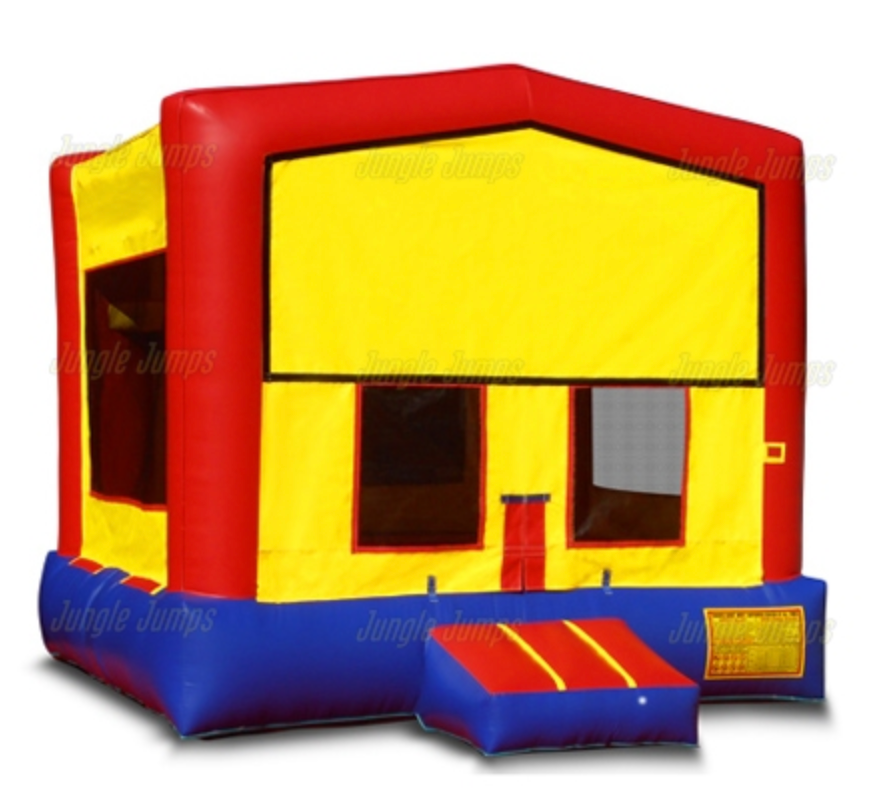 Model: 
BH-1079-A
W X L X H:
10 x 10 x 11
UNIT LB:
100
Description (Module Jumper):
Prepare for a fun time with our spacious 13'x13′ bounce house for sale! This large inflatable play area boasts a peaked roof that provides extra headroom compared to some other commercial-grade options. The vibrant exterior is crafted from our tough, long-lasting commercial-grade vinyl material, ensuring it can withstand the test of time. Two small mesh windows adorn the front of the bounce house, while larger openings at the back and sides ensure excellent airflow. To help you set up quickly, we've included step-by-step instructions with helpful photos.
4) Candy Moonwalk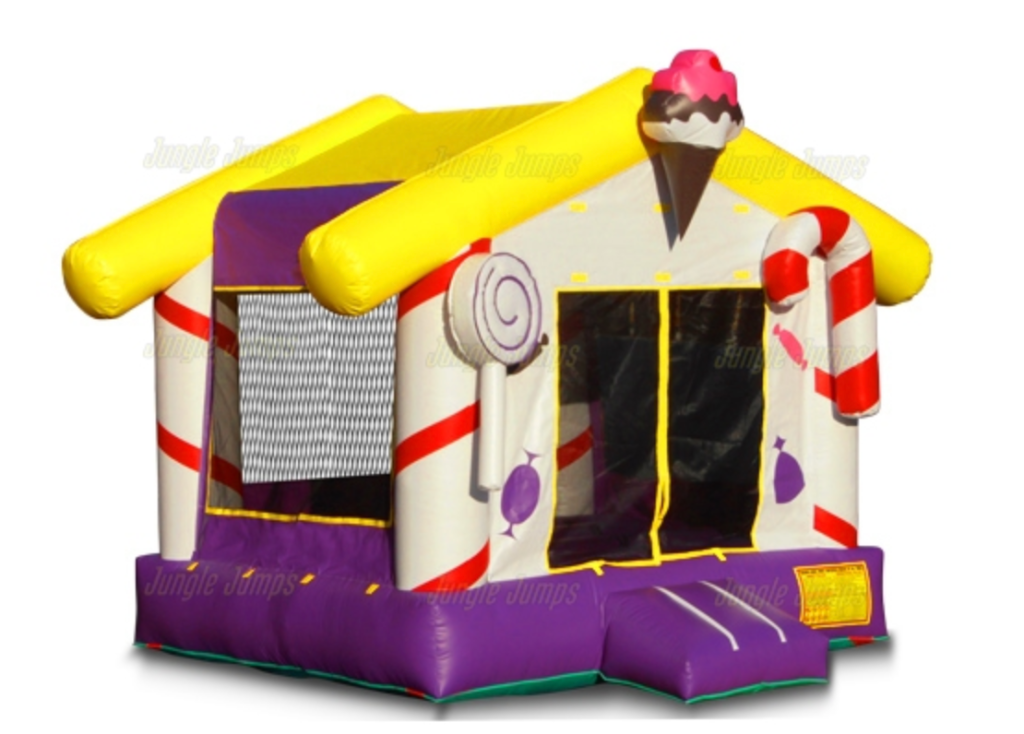 Model: 
BH-1401-B
W X L X H:
13 x 13 x 15
UNIT LB:
195
Description (Candy Moonwalk):
Vibrant and lively, our Candy Moonwalk will undoubtedly be a showstopper at your upcoming event. This moonwalk, available for purchase, showcases delightful inflatable candy ornaments such as lollipops and candy canes, while printed details enhance its visual appeal. The high-ceilinged room provides ample headspace for young bouncers inside and a spacious play area. Mesh panels on the bouncer's sides and back ensure excellent air circulation, while an inflatable ramp allows for effortless entry. Additionally, we provide a vinyl patch kit with glue for your convenience.
5) USA Giant Bounce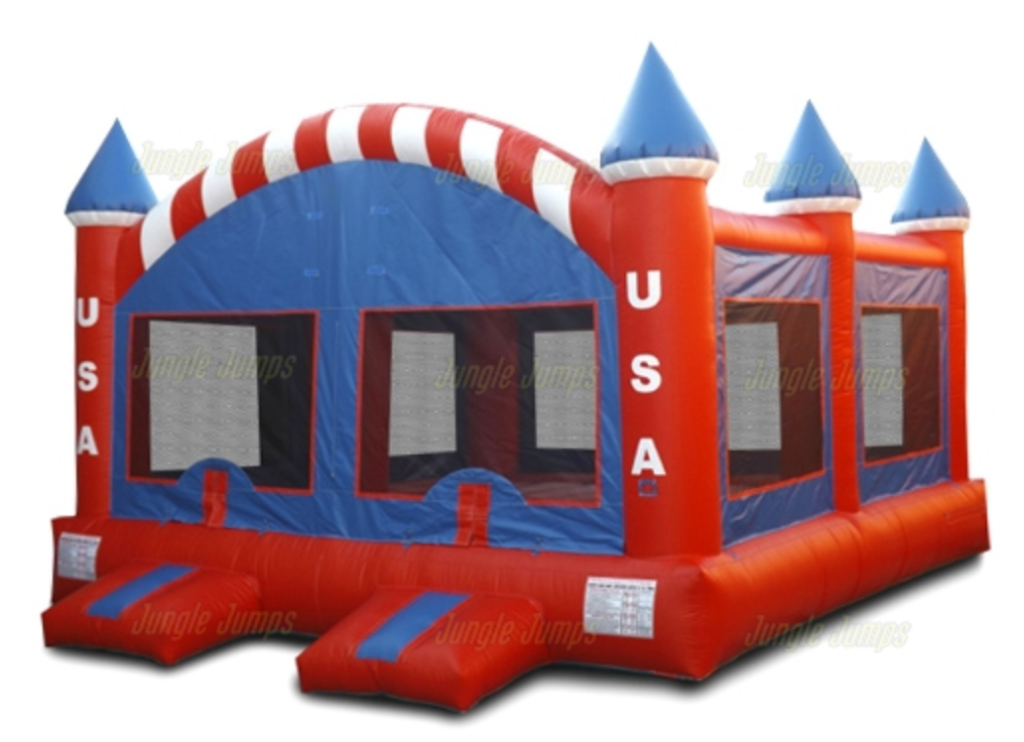 Model: 
BH-2218-D
W X L X H:
20 x 22 x 15
UNIT LB:
420
Description (USA Giant Bounce):
Vibrant hues and an enchanting castle design make this inflatable bounce house a delightful addition to any party or gathering. Manufactured in the USA by the top producer of commercial bouncers in the country, this jump house boasts four inflatable towers and an entry ramp. The compact version comes with an interior, while the more spacious one measures 15'x15′ inside, providing a vast play area. The eye-catching combination of red vinyl with blue and white stripes sets this bounce house apart from the rest.
Conclusion
In conclusion, Montana offers a wide variety of bounce houses for sale, with Jungle Jumps being the number one supplier in the state. Whether you are looking to add excitement to a birthday party, or community event, or simply provide endless hours of entertainment for your children, these top five commercial-grade inflatable options cater to various themes and preferences. From the charming Colorful Moonwalk to the patriotic USA Giant Bounce, there is no shortage of quality and durable bounce houses available in Montana. Don't miss the opportunity to bring joy and create lasting memories with these fantastic inflatable play areas.