Do you want to buy an inflatable bounce house for sale in New Hampshire?
Read our new article about the best bounce house for sale in New Hampshire by Jungle Jumps the number 1 bounce house supplier in New Hampshire!
Are you familiar with Jungle Jumps? They are a renowned manufacturer of commercial inflatables, located in Pacoima, California. Their talented in-house design team utilizes cutting-edge technology to produce top-notch inflatables that are both functional and aesthetically pleasing. Jungle Jumps continually innovates and expands its product offerings to provide customers with a diverse range of options.
Quality is the cornerstone of their manufacturing process, as they employ only the finest materials and construction methods. Jungle Jumps' extensive product line features various inflatables, such as bounce houses, water slides, combo units, inflatable games, and other interactive elements. With vast experience in crafting bounce houses, they offer a wide array of styles and colors, along with seasonal free shipping promotions. Their water slides and wet/dry combo slides are ideal for outdoor events during the warm weather months. Jungle Jumps also specializes in custom inflatables tailored to customers' specific requirements and visions. Additionally, they provide bouncer house accessories and event items that make excellent additions to any business.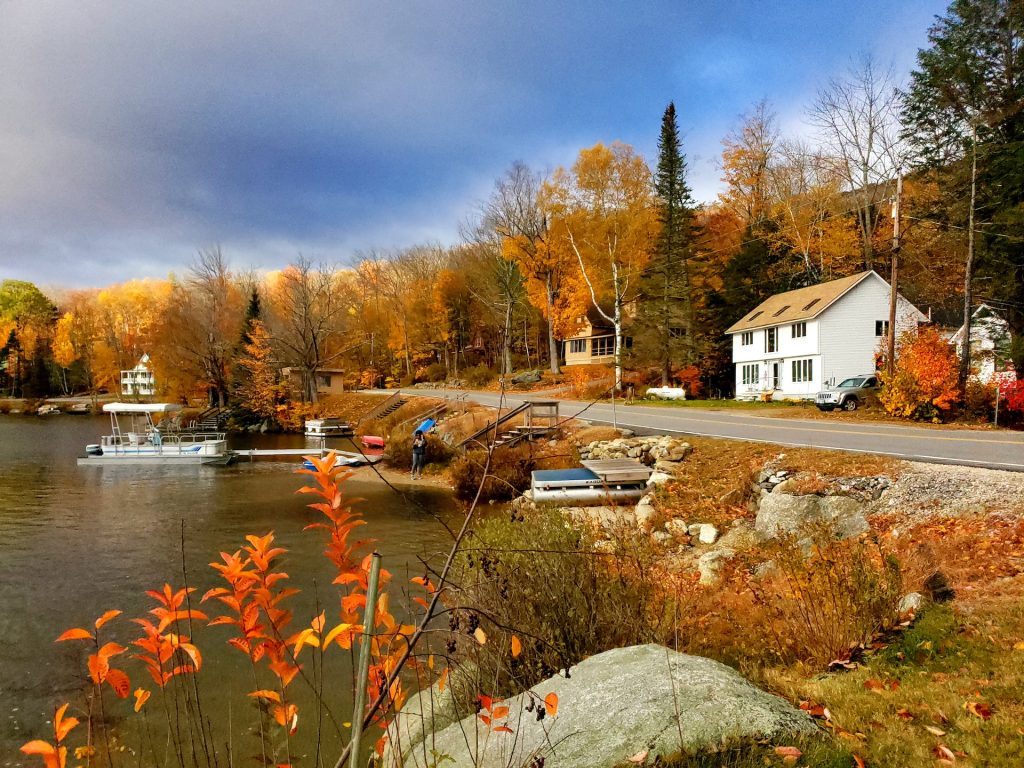 Jungle Jumps is the best inflatable bounce house for sale in New Hampshire available on:
-Manchester
-Nashua
-Concord
-Derry
-Dover
-Rochester
-Salem
-Merrimack
-Londonderry
-Hudson
-And more!
Top 5 best inflate bounce houses for sale in New Hampshire
1) Pirate Bounce House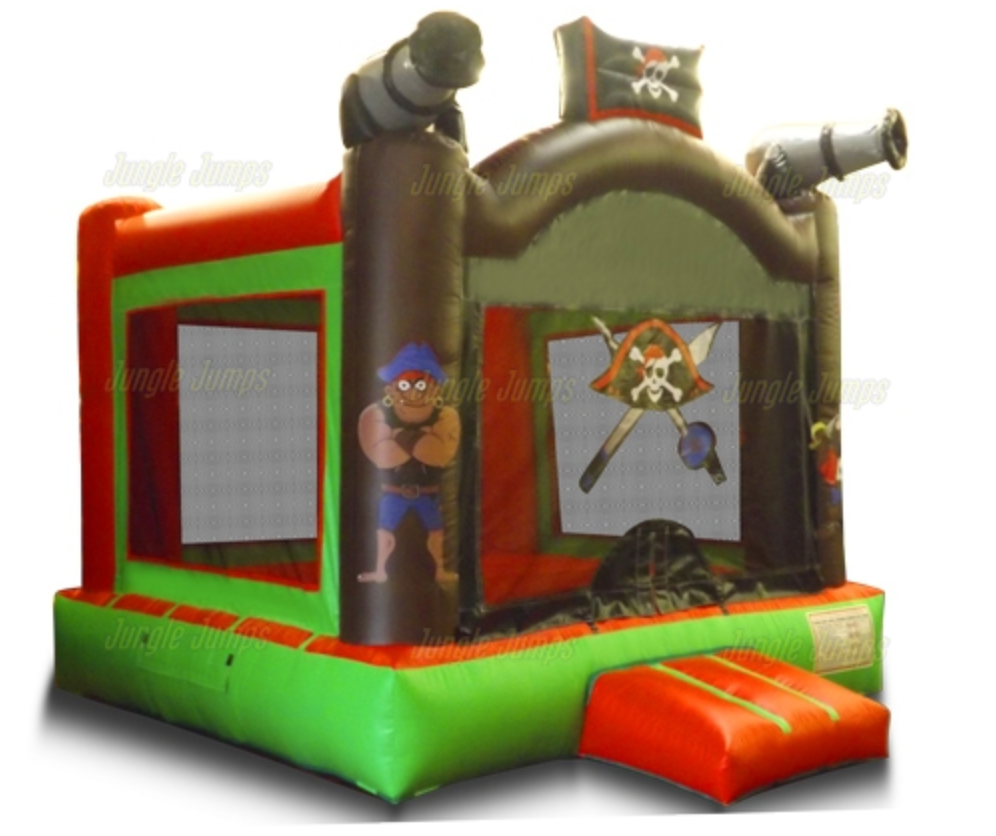 Model: 
BH-1400-B
W X L X H:
13 X 13 X 14
UNIT LB:
169
Description (Pirate Bounce House):
Our Pirate-inspired bounce house remains a beloved choice among customers. Featuring extensive mesh-covered openings on every side, decorative inflatable cannons, and roofline parapets, as well as a central inflatable entrance/exit ramp on the front wall, it offers a delightful experience. Made from resilient commercial-grade vinyl material, this bounce house guarantees top-notch quality in the industry.
2) Princess V-Roof Castle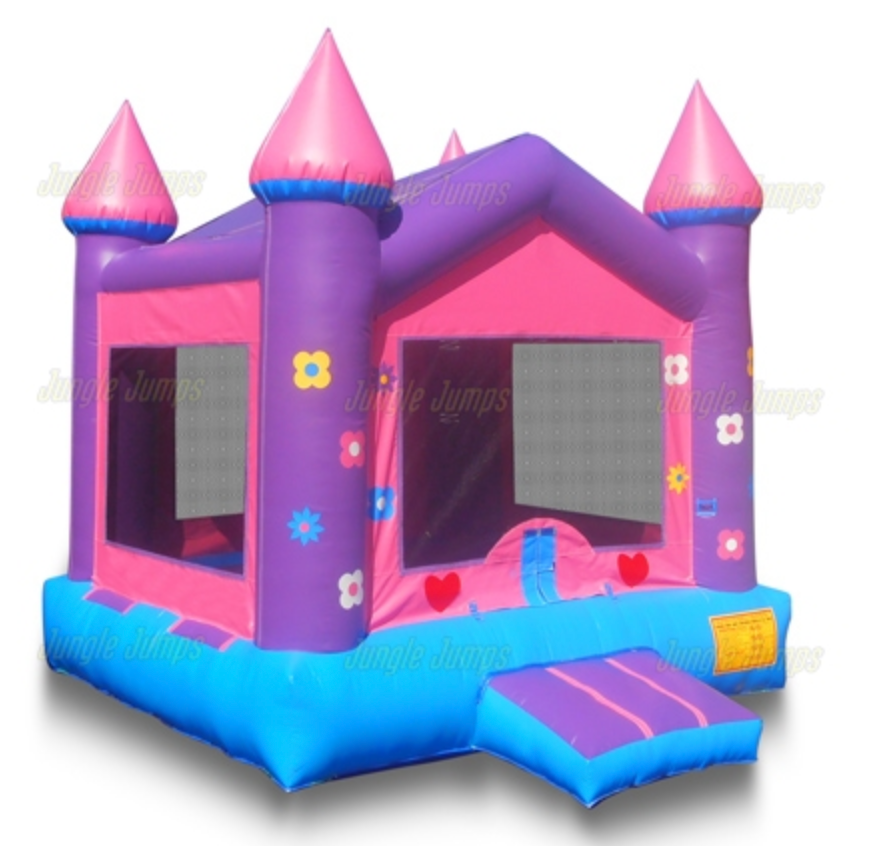 Model: 
BH-1202-B
W X L X H:
13 x 13 x 15
UNIT LB:
175
Description (Princess V-Roof Castle):
Our top-quality inflatable princess castle bouncer is a favorite among kids, featuring a spacious play area and vibrant colors. As a prominent bounce house manufacturer in the United States, Jungle Jumps constructs our products with sturdy and long-lasting vinyl material, guaranteeing their durability for years to come. The elevated roof allows for extra headspace, and the 13'x13′ exterior offers ample room for several participants to enjoy simultaneously. We offer customization options to cater to your unique requirements and include a vinyl patch kit with glue for effortless maintenance and extended use.
3) ATV Bounce House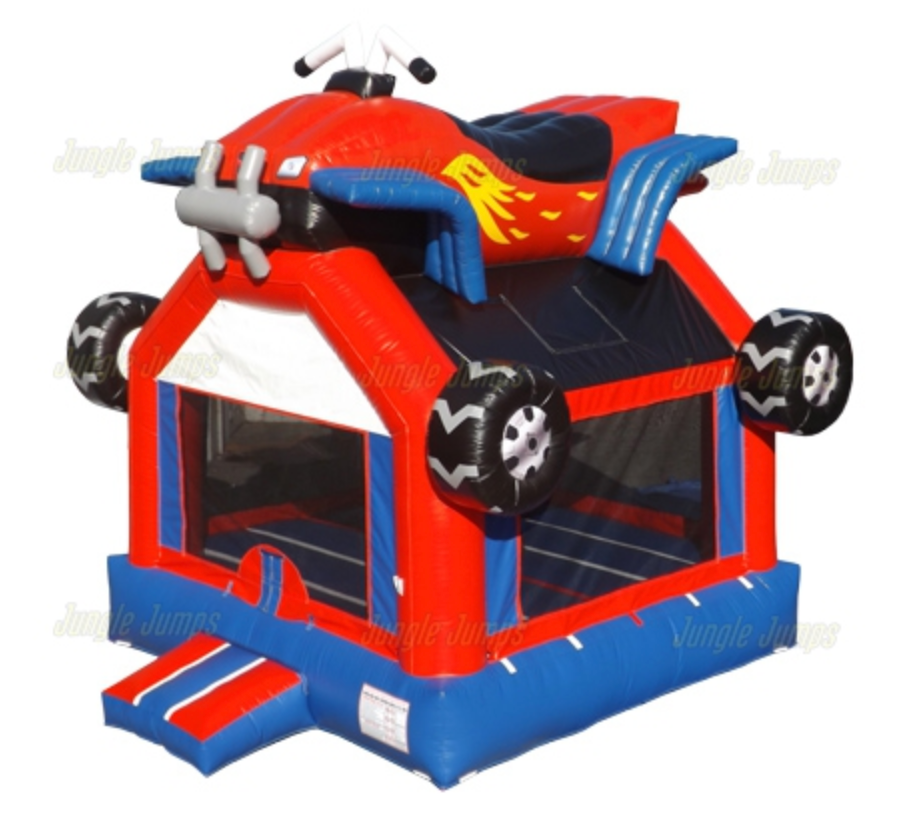 Model: 
BH-2132-C
W X L X H:
17 X 17 X 18
UNIT LB:
243
Description (ATV Bounce House):
For sale is a vibrant and thrilling inflatable bounce house that is ideal for an exhilarating off-road escapade. The bounce house showcases an inflatable all-terrain vehicle (ATV) perched on top, accompanied by four wheels for effortless transportation. Fabricated from robust commercial-grade vinyl in a striking combination of red and blue, this bounce house is designed to be long-lasting and captivating for kids. The pointed roof and inflatable entry ramp guide children into a roomy play zone, complete with mesh-covered window openings on the sides.
4) Sport Arena with Score 1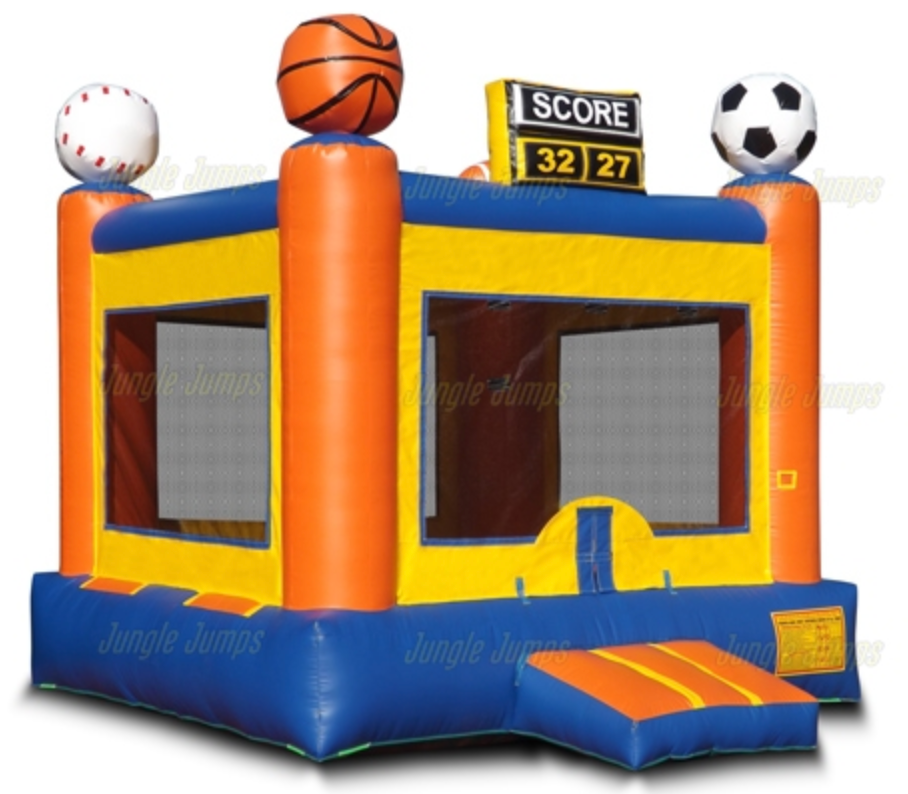 Model: 
BH-1062-B
W X L X H:
13 x 13 x 14
UNIT LB:
175
Description (Sport Arena with Score 1):
Jungle Jumps presents an exceptional commercial inflatable sports arena-themed bouncer, ideal for sports aficionados. This bouncer boasts inflatable sports balls at every corner and a faux scoreboard positioned over the entrance. Its spacious 13'x13′ size offers plenty of room for enjoyment, while the large screened openings ensure proper airflow and visibility. The vibrant, commercial-grade vinyl material enhances its aesthetic appeal. Additionally, each purchase includes comprehensive illustrated instructions for effortless set-up.
5) USA Moonwalk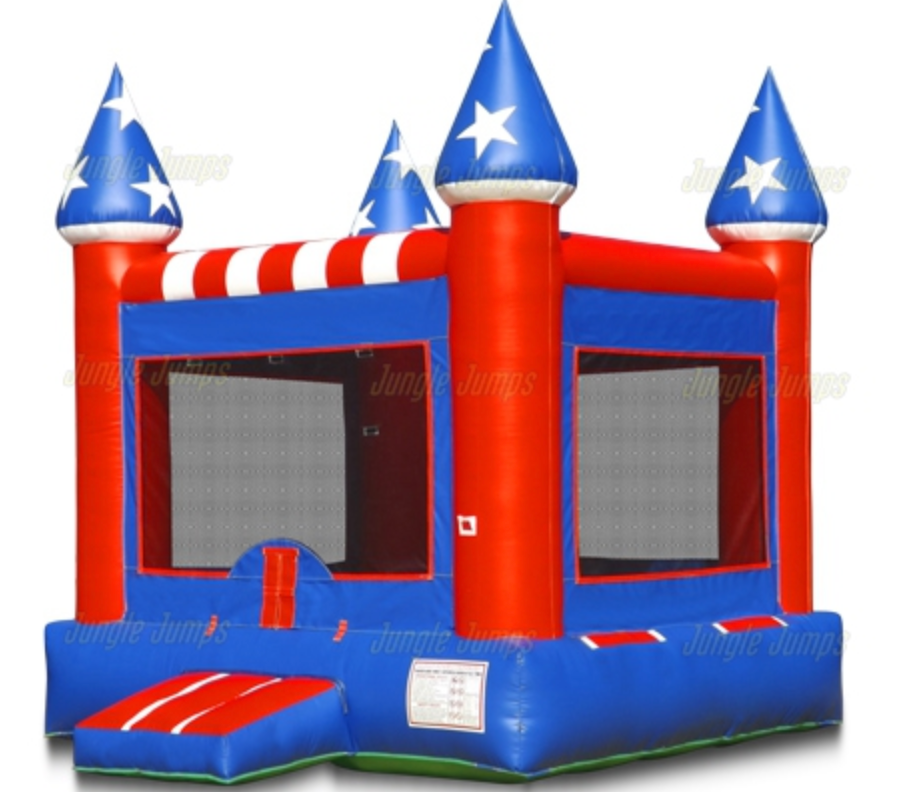 Model: 
BH-1094-B
W X L X H:
13 X 13 X 15
UNIT LB:
175
Description (USA Moonwalk):
The Jungle Jumps' patriotic inflatable bounce house is a favorite among customers, proudly made in the U.S.A. This versatile bounce house is available in two sizes to accommodate events of any kind. The compact model offers a 13'x13′ interior play area, while the more spacious version features a 15'x15′ interior. Both sizes are adorned with inflatable turrets at each corner, showcasing vibrant red, white, and blue vinyl. The addition of printed white stars enhances the patriotic theme. Each side of the bounce house has mesh-covered openings for easy access. To make things even more convenient, we provide rental contracts with your company's information, ensuring a smooth rental process for your customers.
Conclusion
In conclusion, Jungle Jumps is undoubtedly the top choice for those seeking the best bounce house for sale in New Hampshire. With an extensive range of high-quality, innovative, and aesthetically pleasing inflatables, they cater to various preferences and requirements. Their dedication to quality, customer satisfaction, and constant innovation sets them apart from their competitors. Whether you are looking for a bounce house in Manchester, Nashua, Concord, or any other city in New Hampshire, Jungle Jumps has got you covered. Choose from their wide selection of inflatables, including the Pirate Bounce House, Princess V-Roof Castle, ATV Bounce House, Sport Arena with Score 1, or the USA Moonwalk, and provide unforgettable entertainment at any event. Make a smart investment for your business or personal use with Jungle Jumps, the number one bounce house supplier in New Hampshire.