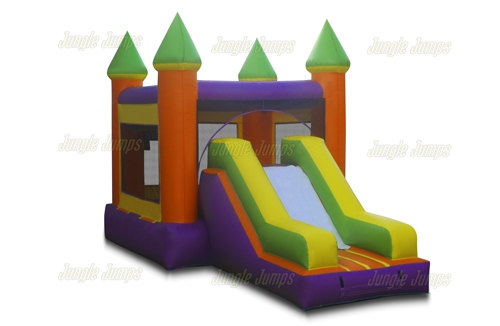 If you are looking to open your own business, one excellent idea business idea that will set you apart from your competitors is to put up a bounce house rental service. These commercial grade jumpers will add the oomph people usually look for to help elevate their parties and give guests some great memories of the event. 
However, before you open your business, there may be some questions on your mind that need to be addressed first. One of the most common questions is, "Is it okay to get a bounce house wet?" This is a legitimate question because you may face legal trouble if you cannot give the appropriate warnings to people who rent your jumpers. This article will cover all there is to know about the safety of bounce houses and what happens if they get wet.
Bounce House Safety: Is Dampness in Your Jumper Dangerous?
This is a legitimate question because it may pose real dangers to anybody on the bounce house and the equipment themselves. Here is a general guide to help you discern whether your bounce house is too wet to continue being used or not.
How Much Is "Too Wet"?
While it is true that a few drops of water or even a stray broken water balloon may not cause potential harm, is there a limit as to what is considered "too wet" for a bounce house? The short answer to this question is that as long as you require a dipper or bucket to remove the water, it is too much and may risk putting excessive strain on the stitching of your bounce house. However, there may be instances when only a tiny amount of water may be enough to make for a dangerous situation.
What to Do When It Rains
If it is only a drizzle, the party may continue. However, if the rain gets stronger, it may be safe to advise everybody in the jumper to get out until the weather improves. Remember that even the most negligible amounts of water may make the surface of your bounce house slippery. People who continue to jump in the bounce house may risk falling and injuring themselves.
What Should You Do When Liquids Other Than Water Spill?
There is the constant risk of having something other than water get on the surface of the bounce house. This may be especially true during children's birthday parties. Children may have all sorts of things in their pockets that may find their way onto your jumper. Slime, chocolate milk, the contents of a leaky juice box are all examples of these things. If you notice an excessive amount of slipping inside the jumper, it may be time to check if any slippery substance has spilled. Ask the people to step out for a moment while you clean and dry the surface before allowing them to get back in.
Conclusion
To sum everything up, you should use your best judgment when it comes to any type of liquid on your jumper. You must get to know all the hazards and dangers that come with opening up your bounce house business before accepting any bookings for rentals. Knowing these facts will help you be ready for anything that may inadvertently happen when your jumpers are rented.
If you are ready to invest in high-quality inflatable jumpers and kickstart your business, come to Jungle Jumps! We are the worldwide supplier of commercial-grade inflatables. Get your commercial moonwalks from us today!