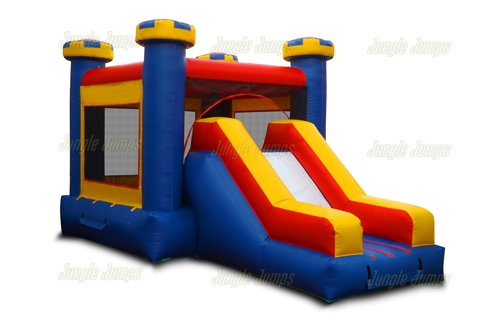 Insurance is important in the more practical aspects of life. This is particularly true when it comes to business assets. In this case, we're taking on both residential and commercial bounce houses, which is basically an inflatable structure of considerable size. 
What's a Bounce House?
Bounce houses exist as spaces designed for people—yes, adults too!—to bounce around and indulge their inner child. The design usually involves an outer shell that's inflatable made out of synthetic fiber. There's also a safety perimeter that comes with it involving vinyl windows and heavy-duty nylon netting. Those make up the structures within the walls.
Whether bounce houses are for sale or for rent, getting bounce house insurance is crucial. When things go topsy-turvy, having bounce house insurance is incredibly helpful. When the correct policy is in order, a business will be able to save a lot when an inflatable unit incurs damages.
Anyone that owns a company that rents out inflatables must cover their investment with bounce house insurance. Risks for injury are ever-present, meaning owner-operators have a high tendency to face claims. Getting an inflatable insurance policy will help in the full avoidance of this.
What Goes into a Bounce House Insurance Policy?
The coverage that comes with bounce house insurance includes protection against injuries, accidents, and general property damage that inflatable bounce houses cause. Needless to say, depending on the coverage type you select, the rate will end up varying considerably. It's also greatly helpful when it comes to protection against liability claims that could get incurred if anyone-children included-end up injured while in your bounce house. For an extra premium, medical evacuation coverage can be added on.
Bounce houses have gotten more and more successful over the last ten years alone. With that rise in success comes more casualties over time. Several documents have gotten published since which has led to the emphasis of that increase. Back in 2012 alone, the Consumer Product Safety Commission found that bounce houses caused nearly 20,000 injuries at an emergency level. More worrisome, however, is certain news items about bounce houses falling victim to high winds and getting raised into the air, resulting in injury.
What Goes into a Bounce House Insurance Scheme?
Being equipped with insurance already puts you ahead of the curve as a bounce house rental company owner. Usually, when people get injuries from a bounce house they don't own, the bounce house owner doesn't have any insurance. Having economical coverage will help the policyholder avoid possible lawsuits that could stem from someone using the bounce house and getting injured from that. The most crucial part of having this insurance is getting coverage against property and physical harm. It's key to have a notarized permit when the bounce houses are not in use. The best route to take is coverage against general responsibility for harm in the property or physical sense.
Conclusion
Over the last decade alone, bounce houses have become more successful than ever. It's crucial for people who own inflatable bounce house rental companies to have insurance. This kind of economical coverage allows a policyholder to avoid lawsuits, which is vital. Any lawsuits from injuries stemming from people who used the bounce house can be avoided with insurance.
Are you searching for a commercial bounce house manufacturer? Check out Jungle Jumps today! We are a worldwide supplier of commercial grade inflatables.