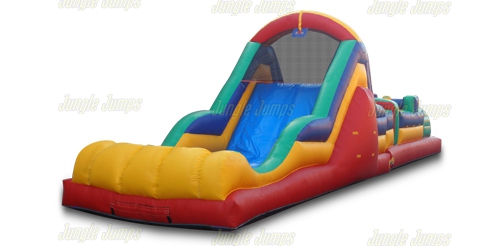 Both adults and kids cannot get enough of inflatable obstacle courses. These popular games can be profitable to the right entrepreneur that knows how to capitalize on a childlike sense of fun.
Suppose you're a parent to a young child and want to give them wonderful experiences just like you did growing up. In that case, you can take this opportunity to make your child happy and earn extra income simultaneously. While inflatables aren't recommended for people of all fitness levels, they are excellent at making people work out running, jumping, and climbing through obstacles.
Here's how you can make the most out of your investment:
1. Rent It Out for Birthday Parties
Planning a child's or even an adult's birthday party takes effort and sometimes stress. You can help parents, friends, and party organizers develop ideas out of the box for an upcoming birthday celebration by hiring out your obstacle course.
Bouncy castles, in particular, provide plenty of photo opportunities that guests will all enjoy. Indeed, renting out your inflatable obstacle courses for such events makes you profit.
2. Partner with Summer Camps
Other than renting out your adult inflatable obstacle course to birthday parties, you can also do that with summer camps or year-round campgrounds. Campers generally love the thrilling experience of racing their friends through a course, making the experience enjoyable.
While an inflatable obstacle course is not a traditional camping activity, it encourages character development and trust in the camper's individual skills. Moreover, those who made it through the course can have the perfect excuse to indulge in additional s'mores and campfire snacks.
3. Link Up with Local Businesses
Not only guests and campers are more than willing to engage in inflatable obstacle courses. Even office employees are ready to step out of their corporate roles and engage in a fun office party with such activities.
Having this course at an office party guarantees a memorable celebration. So, you should look for managers looking to celebrate everything their employees have accomplished and want to do more than just a simple dinner and a night out at a local restaurant.
In addition, obstacle courses allow businesses to determine the top talent and quick thinkers in the office. It also helps shy coworkers to socialize and work with others to come up with creative solutions.
4. Hire It Out to Couples Therapists
Sometimes, solving problems in a relationship means learning how to work together, and this can begin with an obstacle course. Couples can better sort out their problems when they work together on a specific and genuinely fun task, mainly guiding each other through an obstacle course.
So, you may want to reach out to local couples therapists in your area and check whether they're interested in hiring out your inflatable obstacle courses. It can be a much more engaging and truly rewarding therapy session compared to just talking along. Moreover, it might yield better results.
Conclusion
Commercial inflatables like obstacle courses might just be the thing you need to increase your income source. It can be a great side business, and people are guaranteed to have fun with it.
Jungle Jumps is a worldwide supplier of commercial-grade inflatables. We take pride in providing our customers with top-quality inflatables at the lowest possible price. Moreover, if you're new to the inflatable industry business, our blog provides you with the necessary information you should know before purchasing any inflatable. Looking for commercial inflatables for sale? Browse our collection today!