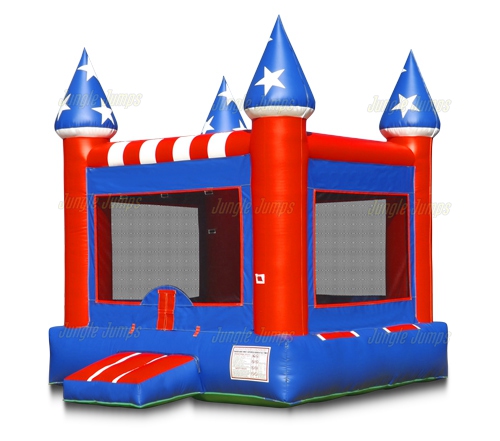 These are the times when taking pride in things that are American made needs to be at forefront. And that philosophy needs to be adopted right across the nation so it's good to see that in one of the nation's biggest distributors of bounce house rentals and inflatable slides.
Regardless of the nature of the business, there are several things that you'll need to look for before you go selecting any of the distributors that are available and one of the first things is reputation. There really isn't another form of advertising that will set you up in a people business like inflatable slides like testimonials and word of mouth. And when you've got that going for you like that good folks here at junglejumps.com do, it's easy to see how they're building a nationwide network of the best nationwide rental centers like Bounce A Lot Fun House in Clinton NC.
See the thing is that quality speaks for itself. And that's what you get right here at junglejumps.com. It's easy to see when you've got hold of place that will stand behind you if you're interested in starting a rental business of you own. Sure, there's a bit of risk involved with any new venture, but these are the people that stand behind all of their bounce house rentals in several big ways that really matter. Taking a look at how junglejumps.com stands behind the product they distribute will tell you how committed to both the product and industry they are. Here's a partial list of the things that they provide so that you'll feel at ease if you're buying or renting.
They have one of the longest warranties in the business and you know how important that is. Remember too that they only represent and manufacture American made products. That fact and the warranty help them to stand above the competition.
They're willing to go the extra mile to ensure that you're got the product that you want. Their commitment to customer satisfaction extends to the color or the products that you order from them. The staff at junglejumps.com are so dedicated to customer service they'll even customize the colors of any of the bounce house rentals or inflatable slides on their website.
American made and distributed by people who care. That's not always the kind of service that you'll get from all the bounce house rental distribution places in the country but that's what you'll get here at junglejumps.com. This is one of the leading manufacturers in the country that's committed to American style quality and craftsmanship.
Jimmy Joe is an expert in the bounce house rentals industry. He's been working with inflatable slides and other commercial jumpers for years.
Summary
Article Name
A National Distributor With Homegrown Pride
Description
There really isn't another form of advertising that will set you up in a people business like inflatable slides like testimonials and word of mouth
Author