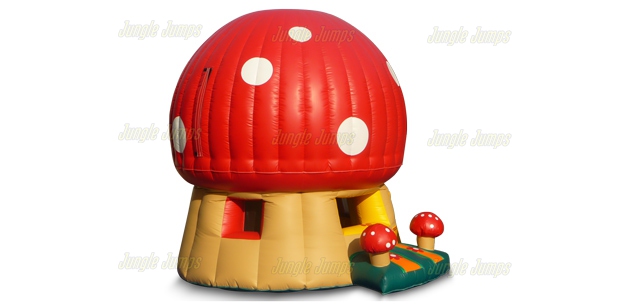 Kids and young adults all have fun in a bounce house, but it can seem a little more untidy after a while. There could be some crayons scattered in the corner, a few stains on the inflatable's surface, and so on. It's necessary to clean the bounce house regularly so that future customers are ensured about sanitation and safety. 
Although some bounce houses are quite large, it's not all too hard to get them spotless. All you need is a little knowledge and patience. Soon enough, all these steps will be second nature as you continue to conduct maintenance.
1. Inspect the Bounce House 
After use, check every nook and cranny of the bounce house to get a sense of how thorough you're going to have to be. It can be a little more time-consuming, but having this short time of preparation can help you manage your time better when you get into the cleaning portion of the process. 
It's also good to take a general look if any sharp objects got left in the inflatable during the day. You can do an initial sweep just to make sure the bounce house is still intact.
2. Remove All the Clutter
Following the inspection, you can take out a trash bag and start picking up any objects that somehow got stranded in the bounce house. This can vary from markers to scrunchies to loose change. Sometimes, it could just be the occasional stick, stone, leaf, or dirt that made its way in.
This can take some time depending on the size, but you need to make sure that you tidy up every crevice before letting more customers in. We also recommend using a broom or vacuum if you want to remove any hair strands or dust that collected in the play areas.
3. Commence Wet Cleaning
If your bounce house looks dirty after dry cleaning, it's time to go wet cleaning. We recommend doing a wet clean after five or six uses unless there's a mess that needs immediate attention. Some kids can, unfortunately, feel sick after jumping just a little too much.
To wet clean the bounce house, use a water and vinegar mixture and dish soap. Use three parts water and one part vinegar when creating the mix; It will help remove any stubborn spills on the inflatable.
4. Use Bleach-Free Disinfectants
Bleach-based disinfectants after wet cleaning can damage the material of the bounce house and cause the color to fade. To get the best results without harming the inflatable, use bleach-free disinfectant wipes to polish down the bounce house.
5. Let the Bounce House Dry
A bounce house should be sundried after wet cleaning and disinfecting. To save time for drying, remove any excess water from cleaning by absorbing it with a mop or towel. You can also opt to use an electric blower if there isn't a lot of sunlight present.
Conclusion 
Cleaning a bounce house can be a tiring routine at first, but it's easy to get used to and do after the first time. It's also well worth keeping the whole area disinfected and ready for the customers looking for some fun.
Jungle Jumps is a leading manufacturer and supplier of commercial inflatable bounce houses. Get free shipping and explore package deals by giving us a call!