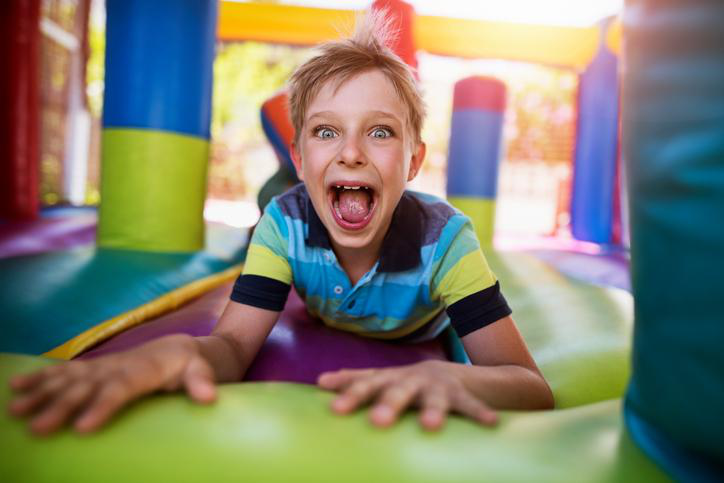 Bounce houses are excellent toys for children. Knowing that these are becoming more affordable and accessible, you may be considering renting one for an upcoming birthday party or another special occasion. If this is your first time renting or buying one, then you may not be aware that there are some things you need to prepare to ensure that setting up the bounce house is smooth and problem-free.
With that in mind, here are the things you will need to do to prepare for a bounce house.
1. Grab an extension cord
You will need a power source to power the blower to pump the bounce house full of air. If you are planning to inflate the bounce house far from any power source, you will need to grab an extension cord. Remember, if you are working with a powerful blower, the cord, along with your electrical system, must be able to handle up to a thousand watts.
If the bounce house has a water slider, then you will need to make sure you have the right water supply for it as well.
2. Prepare an empty space
The bounce house will need to be set up somewhere, so look around for a largely empty place. More often than not, this will be outside your home in your backyard. Once you choose a spot, make sure to clean the area of any debris and other obstacles. Do not forget to keep an eye out for any obstructions overhead, such as tree branches and household fixtures.
Also, consider how you plan to anchor the bounce house. If you are setting up on dirt, you can keep it in place using stakes. If setting it up on a concrete surface, using sandbags to keep it in place is also an option.
3. Look for a dry storage area
If you own the bounce house, you will need to store it somewhere safe to keep it in good condition. For example, you can consider storing it inside your garage in a large locker or container. How you go about it will be up to you, but be sure to pick the right storage option to maintain its lifespan. 
The perfect storage is one that is dry, cool, clean, away from the sun, and safe from pests.
4. Understand the safety rules
While a bounce castle may seem a safe place for kids to play, injuries can still happen. This is mostly because parents do not know the safety rules when operating a bounce house, and the kids will not know any better.
To ensure the kids do get into any accidents, tell them about the rules. If you do not know what the rules are, look at the manufacturer's instructions.
Conclusion
Bounce houses are loads of fun for kids, but remember the tips we have shared above so that you can have peace of mind. The goal is to be fully prepared so that you can minimize the risk of injuries and maximize the fun!
That being said, always keep safety number one. Do not do anything that you think is risky, and if you are unsure about anything, contact the manufacturer for clarification.
Jungle Jumps is a worldwide supplier of commercial-grade inflatables. If you are looking for a top-quality, affordable bounce house for sale, check out what we have to offer.