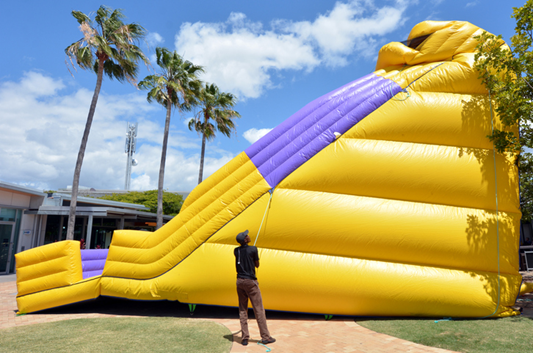 Are you new to the bounce house rental service business? If so, you probably already know that the service isn't exactly fast money until you get a good footing. Some businesses don't make it because of the lack of clients coming in. But ultimately, lots of bounce house rental services bow out because they fall into these common mistakes:
Pitfalls of the Bounce House Rental Business to Avoid
1. Buying Low-quality Bounce Houses
Quality is the top priority for this business. Bounce houses are primarily for a young audience. Parents and event planners need reassurance that the jumpers you rent out are safe and won't cave in on the kids while they're having fun. 
If you receive a bounce house with thin material and holes, send it back and find a better manufacturer. You wouldn't want to rent a bounce house with duct tape, much less one that injures kids at a party.
2. Overpromising and Under-delivering
You have to be true to dimensions and give customers accurate information. If you hype your bounce house as something big enough for twenty children, it better be massive. When kids jump, they need space. 
Make sure that you fully disclose your dimensions and capacity in your product descriptions and promotions. Customers are less likely to call you again or recommend you to another family if they receive a bounce house that does not meet their expectations. 
3. Skipping the Paperwork 
While bounce houses are generally a fun form of entertainment for kids, it is still possible for accidents to occur. Someone can jump too high, fall off, and pull a muscle, or break a bone. People may disobey the capacity recommendation, and the house may pop. And, of course, customers may not be able to return it or pay for the rental in full. 
Arrange a contract with a legal professional for fair terms and agreements. Figure out for how long customers can use it and what they should do if they pop it. Also, make sure to mention that your business is not liable in case of an accident. 
4. Bad Pricing
Check out the prices of your competitors and compare them to yours. Do you have the same make and model of bounce houses? If so, then make deals that give you an edge. You can offer more rental hours or special discounts, but don't set your prices too low that you can't make a decent profit.
5. Limiting your Stock
A bounce house rental service won't last on five to seven models alone. You need to have variety, and your stock has to grow as you do. Each one is an investment, so make sure to update your selections by getting new models.
Conclusion
The bounce house rental service is a niche business, which means you're going to need all the help you can. You may encounter some hiccups here and there, but not all businesses are perfect. Knowing what mistakes to avoid can increase your chances of success and cement a foothold in your local community. 
To lessen refunds and avoid any legal implications, you need to make sure that you get your bounce houses from a reputable bounce house manufacturer in the industry. Jungle Jumps is one of the largest and most reliable manufacturers of commercial-grade inflatables. We produce high-quality jumpers, moonwalks, and bounce castles. We also ensure that all products are made safe for use. Jump in a call with us now!