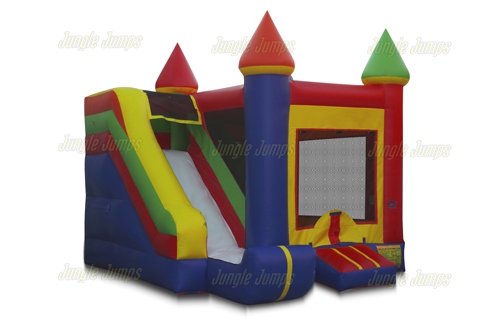 Bounce houses are an essential part of family entertainment and are often paired with different recreational activities, like obstacle courses and pools. Although it can be fun to get into this venture, you do have to know what you are getting yourself into. It's because having commercial inflatables takes a lot of responsibility and effort. Fortunately, we have just the information you need to make the whole experience worthwhile.
This article will discuss three main things you should know before buying your bounce house. Take this as an opportunity to take ownership of your resources and patrons. This way, you can make the most out of your purchase as an important venue for creating new memories and capitalizing on excitement for all ages. 

The main purpose of your purchase

Many buyers often believe they are buying bounce houses to improve their residential property. However, that's only a misconception. These investments are more commercialized and ideal as great additions to recreational businesses. That's why you can often see them around theme parks, malls, and big-time events. 

When you are buying a bounce house, you have to identify your primary goal to ensure you get the ideal one for your context. Consider seeking advice from the right manufacturer because you may even have the chance to get a custom inflatable. You also have to look at the size of your property, the different themes or color schemes, and the return on investment. This way, you get to enjoy the fruits of your labor!

Safe use and warranty 

Some safety risks do come with your bounce house, like weight distribution, the structure's longevity, weather conditions, and age restrictions. It means you have to either read the product descriptions to ensure proper safety measures or consult with the manufacturer. This way, you can prevent accidents, lawsuits, fines, and a bad business reputation.

Knowing your bounce house's warranty gives you protection in case something goes wrong that you or your patrons didn't cause. It lifts the burden off of your business if there are any changes. Fortunately, we at Jungle Jumps provide up to three years warranty for our bounce houses. Consider reading our warranty information for more details. 

Price and maintenance costs

You have the liberty to choose from different commercial bounce house sales and offers. However, you need to be careful about the purchase you make. Remember, you are required to pay for various maintenance costs to guarantee everyone can enjoy their bounce house experience. For instance, you may easily get excited over a cheap bounce house, but you may regret it later on because of costly repair and maintenance fees to maintain its durability and usability. 

As such, it's best to have a direct relationship with your inflatables manufacturer to address your concerns. This way, you can gain access to wholesale-friendly prices, seek the right advice, and get the perfect inflatables for your commercial space. 
Conclusion 
It may be easy to get a bounce house, but it's challenging to get one that's worth investing in. Fortunately, you now have the working knowledge needed to guide you through the buying process. Meanwhile, you can contact our team to guarantee you make the right decision. Get your ideal bounce house today! 
Are you looking for the best commercial-grade bounce houses for your space? Check out our wide selection at Jungle Jumps. We also have other various inflatables for sale to add more variety to your recreational capabilities. Acquire our high-quality products and be of reliable service to your patrons!