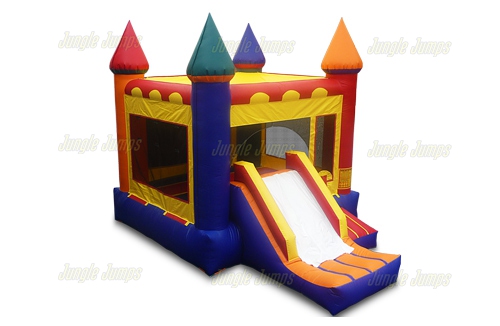 When it comes to starting a business, bouncer rental businesses are great for the budding entrepreneur. This is because the industry is ripe with potential for generating revenue. The sheer number of birthday parties every year also gives you a near-limitless amount of customers. Couple this with the fact that there may be no other business offering this service in your area, and you have the perfect opportunity to corner the market and maximize your profits!
Now, this doesn't mean that starting your own bouncer rental business is going to be easy. Such a venture usually comes with its own difficulties that you must overcome before you can get your business off the ground. 
If you are planning to start your own bouncer rental business, there are three essential tips for you to consider: 
1. Pick a Good Name
Before anything else, you'll want to pick a good name for your business. While this may seem trivial, having a good name for your business is a great way to gain customers. In fact, an article on Inc details how the name you choose is pivotal to your brand's growth and how people perceive your business. 
The name you pick must be one that encapsulates what your business is. Given that your business will mostly deal in renting out commercial moonwalks and bounce houses, you'll want to pick a name that's closely associated with these products. Ideally, you'll want to hire a team that specializes in branding and marketing when coming up with a name. On the other hand, you can also do this yourself as long as you do the proper research.
2. Get the Word Out
The next thing you'll want to address is getting the word out on your business. You'll need to make efforts to help your potential customers find your business. Now, there are a couple of ways you can go about doing this.
Social media has become a useful marketing tool for businesses, as it gives you access to millions of people online without breaking the bank on advertising and marketing. Besides social media, having a proper website will also go a long way when it comes to helping people find your business. This is especially true for businesses that are just starting out as it is a great way to find customers. In fact, 86% of consumers rely on the Internet to find a local business to meet their needs!
3. Build Up Your Inventory
While marketing and making people aware of your business is important, your business will only go as far as your services will take you. This is why you'll want to make sure that you're offering the best services and providing people with quality inflatables for their events. To do this, you have to build up your inventory of inflatables.
In this stage, finding the right supplier is the key. You'll want to find a company that offers wholesale commercial inflatables for sale. For example, Jungle Jumps offers factory-direct commercial inflatables for sale that allows you to get the best prices on the inflatables. Aside from getting a good price, you'll also want to make sure that the inflatables are of high quality and adhere to the industry safety standards.
Conclusion
At this point, you now understand that starting your own business can be quite daunting. Hopefully, the three tips mentioned above can help you overcome the growing pains of starting your own bouncer rental business. Remember that you'll need to exert equal amounts of effort when it comes to marketing and the quality of the services you provide, as it is the best way to ensure your success!
If you want to expand your inventory of inflatables, Jungle Jumps is one of the USA's largest bounce house manufacturers of high-quality inflatable play structures. Get in touch with us today to learn more about our services or get a quotation!