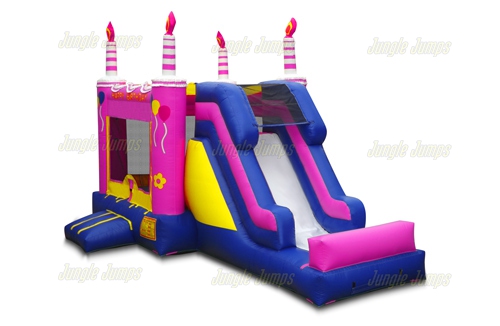 Are you looking to purchase bounce houses to use for renting out to consumers? Do understand that these are nothing like the small bouncy houses that residents use! A bounce house is generally commercial-grade; these are massive, sometimes going over 20 feet in length, width, or even height! These are also a lot more durable—as they are made out of strong vinyl—to ensure that the bounce house stays inflated and is safe from holes and punctures. 
Knowing those dimensions, it is fair to say that a commercial bounce is just as heavy as it is big. However, how heavy is such a bounce house really? Can you drag one around by yourself, or will you need special assistance to do so? These are the questions that you may be asking yourself today—and in this article, we will answer various questions regarding commercial bounce houses.
1. How big are bounce houses?
On average, a bounce house is around 15 by 15 feet. However, take note that this is just a benchmark! Of course, there are many other models out there that may be slightly larger or smaller—but the standard size is one that is generally suitable for people of all ages. 
Capacity-wise, a typical bounce house can fit anywhere between five to ten people, depending on the people's size, too. For a more accurate answer, always be sure to contact the manufacturer that you are renting or buying the bounce house from. They will know the specifications of the bounce house they produce and can give you a more definitive answer on it.
2. How heavy are bounce houses?
Again, the weight of the bounce house will depend on the size of a bounce house. However, you can expect them to weigh anywhere from 150 pounds up to 400 pounds. The numbers can go even higher or lower, depending on the size, material, and features of the bounce house! 
If you were to count other things, such as a slide, then you can expect these bounces to go well over 500 pounds—although again, you can find lighter ones. All in all, if you expected to be moving these bounce houses by yourself, then suffice it to say that you may find this near impossible to do alone. You will need help to do so, whether by a machine or with other people.
3. How much weight can bounce houses carry?
Each bounce house will have a pre-set maximum amount of weight that it can carry. It is generally printed onto the safety label that comes with them. More often than not, the numbers fall between 500 to a thousand pounds, which is around five to twelve kids. 
To maximize safety, we highly recommend not exceeding three-fourths of the number given! This means that if the bounce house is rated for ten people, you should only limit it to seven or eight tops.
Conclusion
Overall, if you started reading this article thinking that you could handle a commercial bounce house alone, think again. These bounce houses are large and heavy, and they require multiple people to move around and set up properly! 
That being said, when you are looking for commercial-grade bounce houses or inflatables, always take the time to read their specifications. This will give you an idea of what you can expect when you finally get them, ensuring you do not end up with any unwelcome surprises that will hinder your ability to use the inflatable.
Jungle Jumps is a worldwide supplier of commercial-grade inflatables, offering bounce houses, slides, panels, and many more. If you are looking for commercial bounce houses for sale, check out what we have to offer!