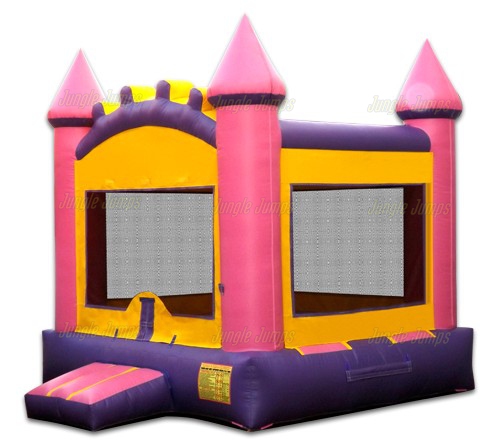 The inflatable season is in full swing. However, just because you are booking events every weekend does not mean that you should stop marketing your business. Actively promoting your inflatable rental services year-round is the best way to ensure that your business continues to grow. One great way to market your inflatable business this time of year is through yard signs.
Spend a few dollars and have professional signs made containing your company name, phone number and web site. These signs can be staked into the yard or area where your inflatable products are being used. Neighbors and simply people driving down the street will see your sign, product, and plenty of happy attendees having fun in your bounce houses. This is a great and inexpensive way to promote your services. Of course, you should always be sure to check with the home owner or person hosting the event who has hired your services before placing your company signage in a private lawn.
If your company name does not speak for itself regarding the services your company offers, for example "Bill's Inflatables", you should also include a line on your signage stating what your company does. Be sure the font is large enough to see from a car passing by and that the color is bright, but still easy to read. Your yard signs should be large enough to read, but not so large that it is gaudy and makes people less likely to allow you to display it. A good rule of thumb is to consider a 12″x18″ or 18″x24″ sign, depending on the amount of information to display. You may also want to consider including a photo of an inflatable on the sign. If you decide to go this route the photo should be in color, which will increase the cost of your signage. A simple sign that can be staked directly into the grass has the potential to do wonders for your business, winning your more and more customers.
When you are not at an event consider placing the yard sign in your own front yard for further visibility. Inflating a bounce house, even when not in use, and placing the yard sign beside it can create even more inquires about your products, as drivers take notice of this.
The weekend is a key time for promoting your services through this type of marketing, as traffic through residential areas may be higher, and drivers are focused more on recreational activities.
You can also try placing your yard sign in a public area. However, some towns have regulations limiting or restricting this. A good rule of thumb is to place the yard sign where you already see other signs. A risk in doing this is that your sign could be stolen from a high profile public area like this. If you are willing to risk the replacement cost consider placing the sign in a major traffic route on Friday, and retrieving it on Sunday.
Remember, the more places you can have your company name will directly affect the amount of business that you will get.