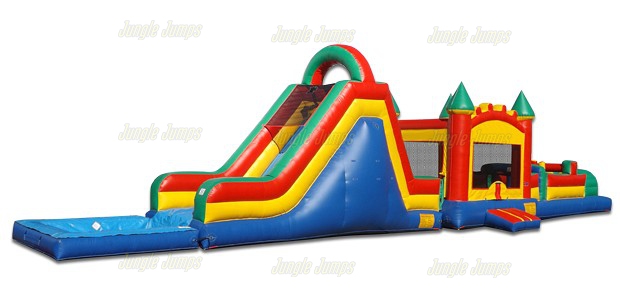 Many look forward to the summer season to finally head to the water parks and enjoy a day of water activities, but there are others who are starting to realize that they do not have to go to any of these parks to have an exciting time! 
In fact, that waterpark experience can be brought home with the help of inflatable water slides. Of course, it will be nowhere near the scale of a fully-fledged water park, but having an inflatable water slide at your house can allow you to enjoy the convenience that the home offers with the added benefit of an even more fun pool setup!
That being said, if you are torn between renting (or buying) a waterslide versus going to the water park, then here are the reasons to opt for the former:
1. It is incredibly convenient
First off, having an inflatable water slide right at home offers plenty in terms of convenience. No longer do you have to tear your hair out trying to plan for a trip to the water park, nor do you have to bother packing your stuff up for a trip! Other inconveniences of the water park, such as waiting your turn to enjoy the activities or having to walk around everywhere to participate in all the activities, can get quite a bit tiresome as well.
Of course, such places are still great places to go to—but having an inflatable water slide at home means that you can enjoy a day at the pool whenever you feel like it!
2. It gets cheaper in the long run
One of the downsides that many people may point out in terms of buying an inflatable water slide is, most notably, the upfront cost of owning one. Of course, the cost of maintaining the water slide also exists.
However, if you love to go to the waterpark often, you might just realize that owning an inflatable water slide might just be cheaper. You will no longer have to deal with high ticket prices, overly expensive food stalls, and other costs associated with the activities there. Sure, it can be a fun experience, but it can take a toll on your wallet too! On the other hand, an inflatable water slide means you can enjoy water activities with little to no expenses.
3. It can be stored when not in use
You will not be using your inflatable water slide year-round! For instance, during the winter times, you will much rather snuggle up on your sofa wrapped in a blanket, enjoying a cup of hot cocoa while you watch the snowfall outside. Fortunately, as the name implies, inflatable water slides can easily be deflated and stored away! This means that whenever you do not need them, they can be kept safe and protected from the harsh environment, only to be brought out later when the weather becomes a little more forgiving.
Conclusion
Sure, an inflatable water slide may not be for everyone, but if you are seriously considering getting one, we highly recommend that you do! There are plenty of inflatable water slides to pick from, offering different features at different price points. All you need to do is figure out which option works best for you to ensure that you make the best bang for the buck in terms of fun and excitement for you, your family, and your friends!
Jungle Jumps is a worldwide supplier of commercial-grade inflatables, offering products such as bounce houses, wet slides, interactives, and more. If you are looking for inflatable slides for sale, check out our catalog today!