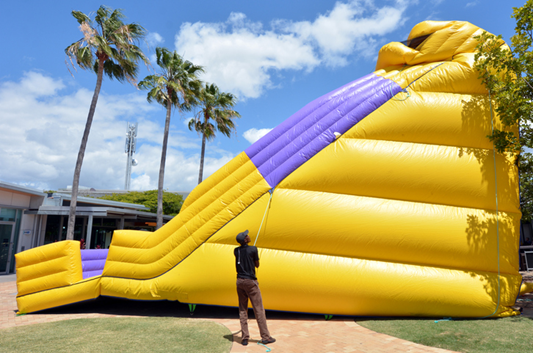 Across the country, thousands of people have taken charge of their financial futures by launching bounce house rental businesses. Commercial-grade inflatables are ideal for nearly every event, including birthday parties, festivals, and sporting events. An inflatables rental business is a great way to enter the world of self-employment, yet many new rental business owners make common mistakes that can interfere with the success of the growing operation. In this guide, we'll illustrate five of the most common mistakes, then provide tips on managing a successful and lucrative rental operation.
Mistake #1: Overlooking the Competition
In any business, failing to gauge the competition is a recipe for disaster. The bounce house rental industry is no exception. Before launching your business, it is a great first step to identify your competitors. Most cities and regions already have thriving rental businesses, and each company will have its own unique way of doing business. Despite the possibility that you may have competitors in your area, there are still plenty of opportunities for success. One of these opportunities may come in the form of what clients you serve with your rental business; there tends to be a lot less competition if you rent to corporate events, church gatherings, and specialty events and festivals in your area. When researching your competitors, look for ways you can differentiate your services, and you'll be well on your way to a thriving business.
Mistake #2: Focusing on Cost Rather Than Quality
It is no secret that bounce houses and other commercial-grade inflatables come in many styles, colors, and levels of quality. Too often, new businesses focus on the cost per inflatable rather than the overall quality. Quality inflatables do cost more, but it is important to remember that these products are designed to provide durability and function for years to come. Lesser-grade inflatables simply do not have the materials and construction needed to last the test of time. Bounce houses made in the United States tend to be of a better quality than those produced in foreign factories. And, U.S.-based manufacturers of inflatables are more likely to work with you on custom products for your growing business. Think of your inflatables purchases as a long-term investment – the better quality you choose up front, the less maintenance and repair you will have to do in the future.
Mistake #3: Missing Out on Advertising Opportunities
Advertising is the key to success in any business venture – getting the word out about your new business can help you attract customers quickly. For advertising, it is critical that you leverage every possible outlet, including print, radio, online, and social media, to reach a steady stream of new customers. In today's highly-competitive business environment, social media is perhaps the most cost-effective advertising approach. Create profiles for your rental business on platforms like Facebook, Twitter, and YouTube. Share information about your company and the products you rent. Recording videos of your bouncers and inflatable slides in action at events can really build "brand awareness".
Don't overlook word of mouth advertising, either. If you provide great quality and service at competitive prices, your customers are far more likely to share their experiences with others. This can be an incredible way of building your new business, positioning you for success well into the future.
Mistake #4: Forgetting the Accessories and Add-Ons
Many successful inflatables rental businesses start small, with a handful (3-4 units) of bounce houses and inflatable slides or combo models. As your business grows, however, you may seriously consider branching out with accessories, add-ons, and additional services. Some of the options include:
Popcorn machines
Dunk tanks
Interactive inflatable games
Climbing walls
Tables and chairs
Inflatable movie screens
Pop-ups and shelters
By adding these additional products and services slowly, you can create new opportunities for your business operation. When customers can rely on your rental business for all of their event needs, you will soon dominate your competition!
Mistake #5: Failing to Protect the Business with Insurance
You've worked hard to launch your business, and your commercial-grade inflatables purchases represent a significant investment. Doesn't it make sense to protect that hard work and those investments? For business owners, liability insurance should be at the top of your risk management list. Specialty insurance policies help to protect you from legal claims and financial losses if someone should be injured while enjoying your bouncers. Look for an insurance underwriter that has experience with special event liability insurance. Your company's future could be at stake if you fail to protect the business with a comprehensive insurance plan.